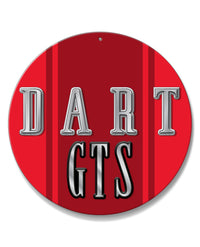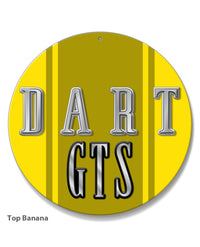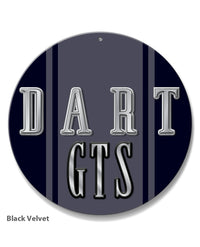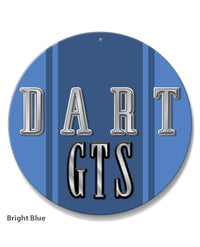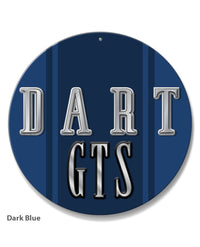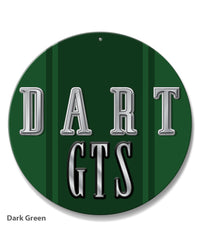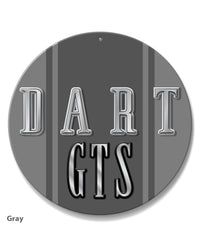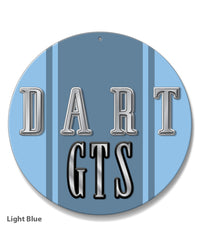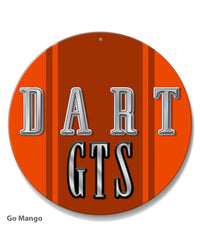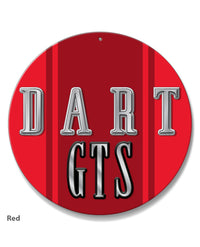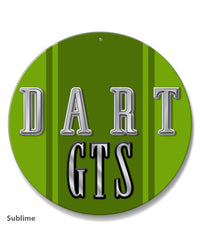 Dodge Dart GTS 1968 Emblem Novelty Round Aluminum Sign
Product Code:
DODGE_68_DART_GTS_ROUND_SIGN_BLK
Vintage 1968 Dodge Dart GTS Emblem Novelty Round Sign

To stay competitive in an ever changing market and to match such vehicles as the Chevrolet Nova SS, Dodge introduced the Dart GTS in 1968. In GTS trim the vehicle came equipped with a 340 cubic-inch V8 engine producing 275 horsepower or could be ordered with an optional 383 cubic-inch V8 that produced 300 horsepower. Other enhancements included a Rallye suspension, larger wheels and rims, and exhaust system complete with a chrome trim. Performance could be further increased with the optional four-speed Hurst floor shift manual or the Torque-Flite automatic. Standard was the three-speed manual transmission which proved to be the least favorite when the GTS package was ordered. The styling of the GTS version was aggressive. It was easily identifiable with the rear end 'bumble-bee' stripe, body side racing stripes, bulges in the hood, and air vents. These vehicles were void of most amenities including power steering and were purpose-built to go fast in a straight line. To add to the performance most came with aftermarket ignition kits, hoses, headers, and air cleaner.
Perfect for all car enthusiasts that want to show their passion for their 1968 Dodge Dart GTS, this Novelty Round Sign looks great on a wall at home, garage, office, workshop, Man cave, private roadways or anywhere you feel you deserve a special decoration spot. Choose between 14 different colors that contrast beautifully with the vintage 1968 Dodge Dart GTS emblem. For any car guy, this is the ideal gift to add style and show their pride.
Available in: Red - Purple - Light Green - Orange - Yellow - Pink - Bright Blue - Light Blue - Black Velvet - Dark Orange - Dark Green - Dark Blue - Gray - White
Made of .042 Aluminum
11 3/4" (30 cm) diameter
1 hole for easy mounting
Water-resistant
UV protected for outdoor use and durability
Made in USA
* Dodge or any other marks are registered trademarks. Our products are not approved by any of these manufacturers and trademarks. We do not imply any association with these manufacturers and references are based on historical information in the public domain.