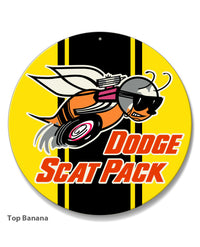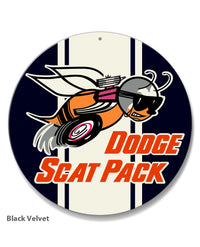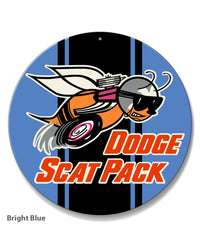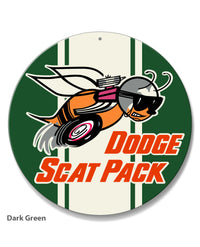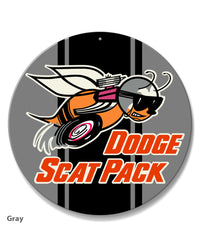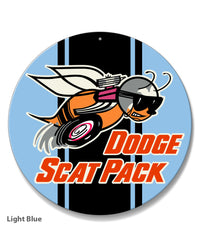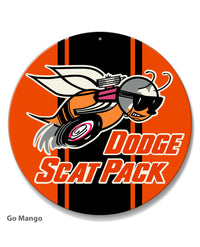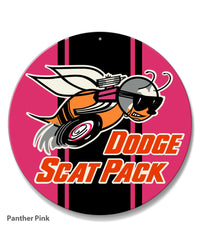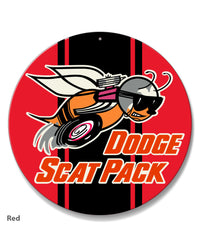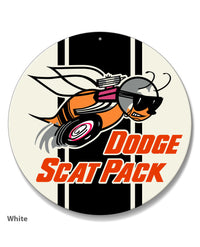 Dodge Scat Pack 1968 Emblem Round Aluminum Sign
Product Code:
68_DOD_SCATPACK_LOGO_ROUND_SIGN_BLK
Vintage 1968 Dodge Scat Pack Emblem Novelty Round Sign

Dodge's Marketing program was awesome and performance Muscle cars that came along with it were amazing. The first Scat Pack held the Charger R/T, Coronet R/T, Dart GTS, Swinger 340, and Super Bee, surrounded by print ads, brochures, wearables, and decals. The only change to the cars were a decal and emblem on the Super Bee, and a twin "bumblebee" stripe that could be deleted by the buyer. In 1970, the Scat Pack cars were the Dart Swinger 340, Coronet Super Bee, Challenger and Charger R/T, and Charger Daytona. In 1971, the Charger Super Bee replaced the Coronet version, and the 340 Demon was added to the list; that was the last year of the promotion. In 1970 Dodge created a Scat Pack Club; members paid $3 per year for a Mopar Performance catalog, wallet card, jacket patch, bumper sticker, forty-page racing guide, the monthly Dodge Performance News, and the quarterly Dodge Scat News, which seems like a good deal even with inflation.
Perfect for all car enthusiasts that want to show their passion for their 1968 Dodge Scat Pack, this Novelty Round Sign looks great on a wall at home, garage, office, workshop, Man cave, private roadways or anywhere you feel you deserve a special decoration spot. Choose between 14 different colors that contrast beautifully with the vintage 1968 Dodge Scat Pack emblem. For any car guy, this is the ideal gift to add style and show their pride.
Available in: Red - Purple - Light Green - Orange - Yellow - Pink - Bright Blue - Light Blue - Black Velvet - Dark Orange - Dark Green - Dark Blue - Gray - White
Made of .042 Aluminum
11 3/4" (30 cm) diameter
1 hole for easy mounting
Water-resistant
UV protected for outdoor use and durability
Made in USA
* Dodge or any other marks are registered trademarks. Our products are not approved by any of these manufacturers and trademarks. We do not imply any association with these manufacturers and references are based on historical information in the public domain.