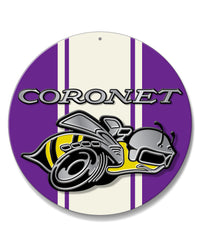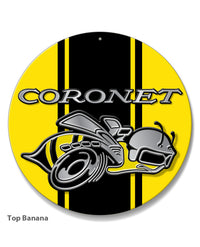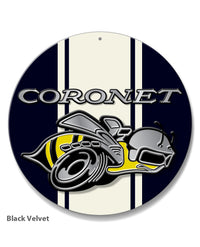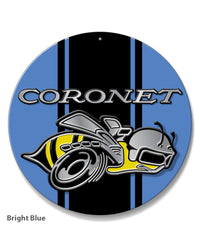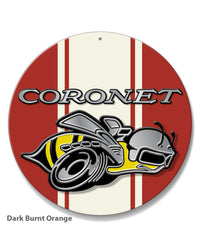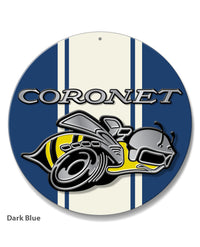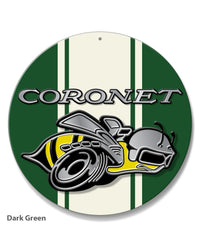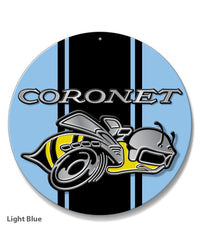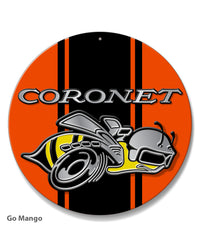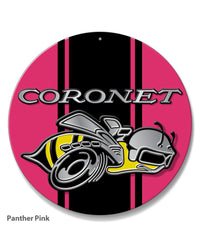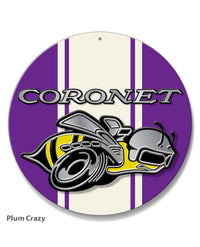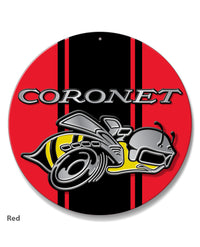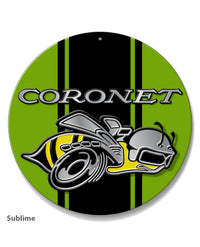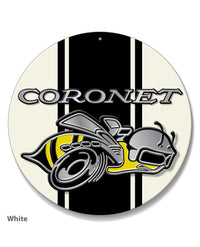 Dodge Coronet Super Bee 1969 - 1970 Emblem Novelty Round Aluminum Sign
Product Code:
DOD_COR_SUPERBEE_LOGO_ROUND_SIGN_BLK
Vintage 1969 - 1970 Dodge Coronet Superbee Emblem Novelty Round Sign

In mid-1969, the A12 package was introduced on the Super Bee. It included a 390 hp (291 kW) version of the 440 with three 2bbl Holley carburetors on an aluminum intake manifold, a black fiberglass lift-off hood secured with metal pins, heavy-duty suspension and 15" steel wheels with no hubcaps or wheel covers. The hood had an integrated forward-facing scoop which sealed to the air cleaner assembly and bore a decal on each side with the words "SIX PACK" in red letters, "Six Pack" being the name used for the 6-bbl induction setup when installed on a Dodge (Plymouth went with "440 6bbl" on the A12 Road Runners). The A12 Super Bee could be had with most Super Bee options, with the exception of air conditioning and tire-wheel packages. The A12 option was a 1969-only package, but the 440 6bbl returned in 1970 as an optional engine on both the Super Bee and the Coronet R/T.
Perfect for all car enthusiasts that want to show their passion for their 1969 - 1970 Dodge Coronet Super Bee, this Novelty Round Sign looks great on a wall at home, garage, office, workshop, Man cave, private roadways or anywhere you feel you deserve a special decoration spot. Choose between 14 different colors that contrast beautifully with the vintage 1969 - 1970 Dodge Coronet Superbee emblem. For any car guy, this is the ideal gift to add style and show their pride.
Available in: Red - Purple - Light Green - Orange - Yellow - Pink - Bright Blue - Light Blue - Black Velvet - Dark Orange - Dark Green - Dark Blue - Gray - White
Made of .042 Aluminum
11 3/4" (30 cm) diameter
1 hole for easy mounting
Water-resistant
UV protected for outdoor use and durability
Made in USA
* Dodge or any other marks are registered trademarks. Our products are not approved by any of these manufacturers and trademarks. We do not imply any association with these manufacturers and references are based on historical information in the public domain.