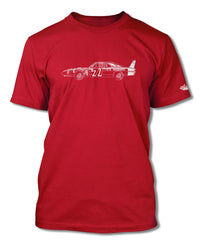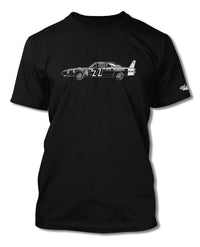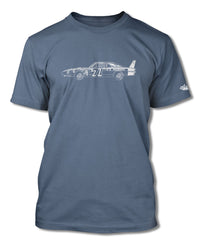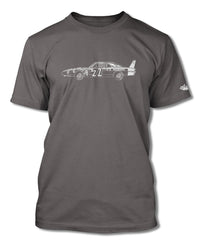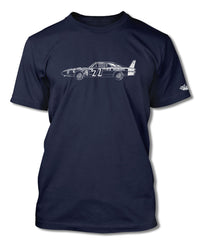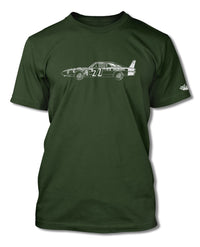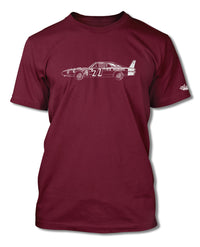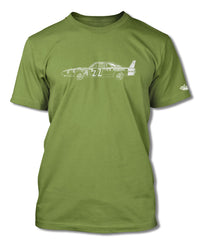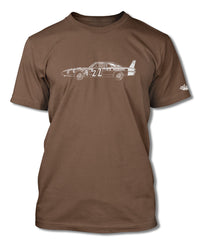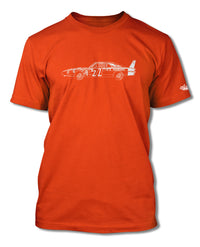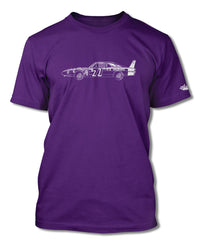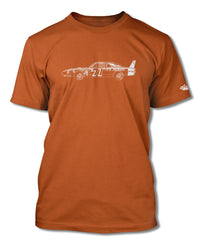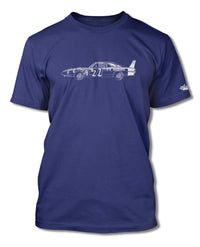 1969 Dodge Charger Daytona Bobby Issac #71 T-Shirt - Men - Side View
Product Code:
1969_DODGE_CHRGR_DTN_KK_S_BLK
1969 Dodge Charger Daytona Bobby Issac #71 T-Shirt for Men
The Dodge Charger was produced from 1966 through 1978, 1983 through 1987, and again in 2006. Since its inception, and for most of the time, the impressive performance and stylish bodies made the Charger an instant success. The first, second and third generation were mid-size two-door performance car while the other generations went to subcompact and later to four-door sedans. Back in the 60s, Dodge dealers were impatiently pressuring the automaker for a response to the Ford Mustang. Instead of focusing its attention on a Mustang-fighting pony car, Dodge looked to counter the AMC Marlin and the Ford Thunderbird with a sleek fastback two-door hardtop. A Charger II show car was displayed at auto shows throughout 1965, and the production Charger made its public debut on January 1, 1966, in a television commercial aired during the Rose Bowl. Viewers were introduced to the "Leader of the Dodge Rebellion," and the 1966 Charger immediately garnered both criticism and praise from the public and reviewers alike. Some panned its fastback styling for being too similar to the AMC Marlin, while others questioned the value of its $3,122 starting price, which was over $400 more than the Marlin. Over time the Charger became a to the high of success and made it an absolute Legend.
For 1969, Dodge decided to make only minor improvements to the Charger. The grille now had a chrome center divider. The 68 model was not successful in stock car racing such as NASCAR, and two new Charger models were available. The Charger 500 was a performance machine with some more aerodynamic shape styling and some cues similar to the Dodge Coronet. But THE big news was the Dodge charger Daytona which is easily identified by its larger vertical tail stabilizer and front nose extension. With just over 500 examples of the Daytona produced, the $4000 vehicle was available with either the Hemi or the 440 engine. With its drag coefficient of 0.28, it was the first stock car to break the 200 mph barrier and won its debut race in September 1969 at Talladega. Due to its supremacy on the tracks, it was banned from racing and only ran NASCAR one year. In one last hurrah, the $71K and K Insurance Daytona went to Bonneville, and broke 28 land speed records, most of which still stand today. Performing spectacular jumps in nearly every episode, a 1969 Charger R/T was featured in television series 'The Dukes of Hazzard' which aired from 1979 to 1985. Named 'General Lee', it was Hemi-orange and had a Confederate flag painted on the roof. The car is mainly driven by Bo Duke whose character was an ex-stock car driver. The orange Charger, complete with rollbar and hot-rodded motor, was his old race car. The windows were always open, and the doors were (allegedly) welded shut.
A game of subtle lights and shadows reveal the magnificent curves of the body of the 1969 Dodge Charger Daytona Bobby Issac #71, a Legendary American Automobile. Detailed and harmonious, the artistic illustration has grabbed the essence of one of the most influential vehicles of the 20th century and is printed in front of the tee. Refine and stylish, it is a perfect wear for any occasion and to show your passion for a true Legend that lives forever: the 1969 Dodge Charger Daytona Bobby Issac #71 Short Sleeve T-Shirt.
The featured original artwork has been printed on a high-quality 6.0 oz 100% pre-shrunk American cotton t-shirt.
Seamless double-needle collar - sleeve bottom hems.
It is available in Black, Charcoal, Cherry Red, Forest Green, Indigo Blue, Kiwi, Maroon, Navy Blue, Nuts, Military Green, Orange, Purple, Rust, and Steel Blue
in sizes S - M - L - XL - 2XL - 3XL
*4 Extra Large (4XL), 5 Extra Large (5XL), and Extra Tall (XT) t-shirts are available through special order. Please contact us for colors' availability, pricing and estimated delivery.
*Dodge or any other marks are registered trademarks. Our products are not approved by any of these manufacturers and trademarks. We do not imply any association with these manufacturers and references are based on historical information in the public domain.