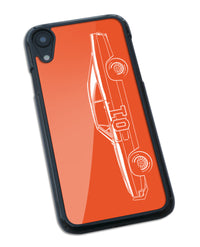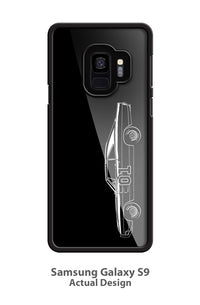 1969 Dodge Charger General Lee - The Dukes of Hazard Smartphone Case - Side View
Product Code:
1969_DODGE_CHRGR_DUKES_CP_BIG_BLK
1969 Dodge Charger General Lee - The Dukes of Hazard Cell Phone Case for Smartphone
For 1969, Dodge decided to make only minor improvements to the Charger. The grille now had a chrome center divider. The 68 model was not successful in stock car racing such as NASCAR, and two new Charger models were available. The Charger 500 was a performance machine with some more aerodynamic shape styling and some cues similar to the Dodge Coronet. But THE big news was the Dodge charger Daytona which is easily identified by its larger vertical tail stabilizer and front nose extension. With just over 500 examples of the Daytona produced, the $4000 vehicle was available with either the Hemi or the 440 engine. With its drag coefficient of 0.28, it was the first stock car to break the 200 mph barrier and won its debut race in September 1969 at Talladega. Due to its supremacy on the tracks, it was banned from racing and only ran NASCAR one year. In one last hurrah, the $71K and K Insurance Daytona went to Bonneville, and broke 28 land speed records, most of which still stand today. Performing spectacular jumps in nearly every episode, a 1969 Charger R/T was featured in television series 'The Dukes of Hazzard' which aired from 1979 to 1985. Named 'General Lee', it was Hemi-orange and had a Confederate flag painted on the roof. The car is mainly driven by Bo Duke whose character was an ex-stock car driver. The orange Charger, complete with rollbar and hot-rodded motor, was his old race car. The windows were always open, and the doors were (allegedly) welded shut.

A game of subtle lights and shadows reveal the magnificent curves of the body of this Legendary American automobile: The 1969 Dodge Charger General Lee - The Dukes of Hazard one of the most influential vehicle of the 20th century. A true Car Legend that lives forever: the 1969 Dodge Charger General Lee - The Dukes of Hazard Cell Phone Case for Apple iPhone and Samsung Galaxy Smartphones.
Available in:
Black • Silver Grey • Military Green • Lemans Blue • British Green • Racing Blue • Dark Red • Cattail Brown • Steel Blue • Good Orange • Italian Red • Light Blue • Light Pink • Hot Pink
for:
Apple iPhone 4 • 4s • 5 • 5s • 5SE • 6 • 6s • 6 Plus • 6s Plus • 7 • 7 Plus • 8 • SE • 8 Plus • X • XS • XS Max • XR • 11 • 11 Pro • 11 Pro Max • 12 Mini • 12 • 12 Pro • 12 Pro Max • 13 Mini • 13 • 13 Pro • 13 Pro Max • 13 Mini • 14 • 14 Plus • 14 Pro • 14 Pro Max • 15 • 15 Plus • 15 Pro • 15 Pro Max
Samsung Galaxy S4 • S5 • S6 • S7 • S8 • S8+ • S9 • S9+ • S10 • S10e • S10+ • S20 • S20+ • S20 Ultra • S20 Lite • S20 FE • S21 • S21+ • S21 Ultra • S21 FE • S22 • S22+ • S22 Ultra • S23 • S23+ • S23 Ultra

The cover / case is made of Flexible Rubber or Hard Plastic (for the oldest models) and a Printed Aluminum Insert.
The image is permanently infused into the aluminum that will not crack, fade, chip, or peel (we do not use stickers or decals).
Easy access to all buttons and features of your phone, plug your charger cable, and headset without removing the case.
The Smartphone is not included. You will receive 1 (one) Smartphone case / cover / skin only.
This Smartphone Case is brand new with tag. It is in stock, packed in bubble bag and ready to ship.
This product was designed, printed & packed in the USA.

*Dodge Charger or any other marks are registered trademarks. Our products are not approved by any of these manufacturers and trademarks. We do not imply any association with these manufacturers and references are based on historical information in the public domain.