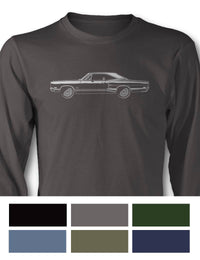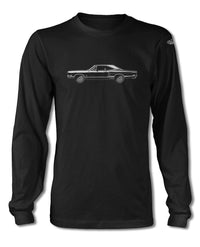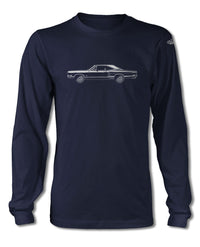 1969 Dodge Coronet 500 Hardtop T-Shirt - Long Sleeves - Side View
Product Code:
1969_DODGE_CORO_500_HT_LS_S_BLK
1969 Dodge Coronet 500 Hardtop Long Sleeve T-Shirt
The base Coronet was dropped in 1969, leaving the Deluxe as the lowest trim level through 1970. The Coronet 440 convertible was dropped since 1968. Coronet 500 retained its 2-door hardtop, convertible and 4-door sedan through 1970. A Coronet 500 station wagon made its debut in 1968, continuing through 1970. Simulated woodgrain trim was standard on the Coronet 500 wagon.The Coronet R/T 2-door hardtop and convertible continued through 1970. The Super Bee was only available as a 2-door coupe or 2-door hardtop. Chrysler did display a convertible with Super Bee stripes at car shows in 1968, but never offered it as a production model. Some enthusiasts have created "phantom" Super Bee convertibles by adding the appropriate trim and stripes to Coronet 500 convertibles.
A game of subtle lights and shadows reveal the magnificent curves of the body of the 1969 Dodge Coronet 500 Hardtop, a Legendary American Automobile. Detailed and harmonious, the artistic illustration has grabbed the essence of one of the most influential vehicle of the 20th century and is printed in front of the tee. Refine and stylish, it is a perfect wear for any occasion and to show your passion for a true Legend that lives forever: the 1969 Dodge Coronet 500 Hardtop Long Sleeve T-Shirt.
The featured original artwork has been printed on a high quality 6.0 oz 100% pre-shrunk American cotton t-shirt.
Seamless double needle collar - sleeve & bottom hems.
It is available in Black, Charcoal, Indigo, Forest Green, Navy, & Military Green in size S - M - L - XL - 2XL - 3XL

*Dodge or any other marks are registered trademarks. Our products are not approved by any of these manufacturers and trademarks. We do not imply any association with these manufacturers and references are based on historical information in the public domain.