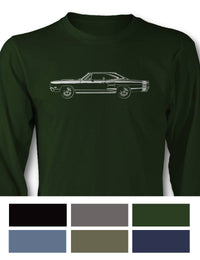 1969 Dodge Coronet RT Coupe with Stripes T-Shirt - Long Sleeves - Side View
Product Code:
1969_DODGE_CORO_RT_STRP_CP_LS_S_BLK
1969 Dodge Coronet RT with Stripes Coupe Long Sleeve T-Shirt
The 440 cubic-inch V8 Six Pack became available in 1969. With this 390 horsepower engine, a zero-to-sixty time of 6.6 seconds could be achieved. The 426 and 440 horsepower engine were still available offering 425 and 375 horsepower respectively. Unfortunately, sales continued to fall - less than 7,240 examples were produced in 1969. Styling remained unchanged from 1968. The Coronet Super Bee and R/T versions were outfitted with the 426 cubic-inch Hemi V8. They were offered in two-door coupe configruation of which 166 examples are estimated to have been produced. 90 two-door hardtops were also constructed. In the R/T configuration, there were 97 constructed of these two-door hardtops and 10 convertibles.
A game of subtle lights and shadows reveal the magnificent curves of the body of the 1969 Dodge Coronet RT with Stripes Coupe, a Legendary American Automobile. Detailed and harmonious, the artistic illustration has grabbed the essence of one of the most influential vehicle of the 20th century and is printed in front of the tee. Refine and stylish, it is a perfect wear for any occasion and to show your passion for a true Legend that lives forever: the 1969 Dodge Coronet RT with Stripes Coupe Long Sleeve T-Shirt.
The featured original artwork has been printed on a high quality 6.0 oz 100% pre-shrunk American cotton t-shirt.
Seamless double needle collar - sleeve & bottom hems.
It is available in Black, Charcoal, Indigo, Forest Green, Navy, & Military Green in size S - M - L - XL - 2XL - 3XL

*Dodge or any other marks are registered trademarks. Our products are not approved by any of these manufacturers and trademarks. We do not imply any association with these manufacturers and references are based on historical information in the public domain.