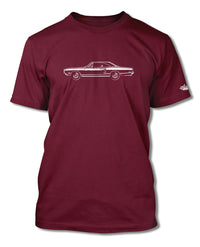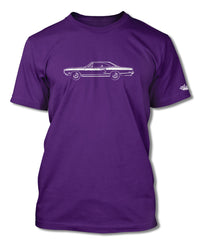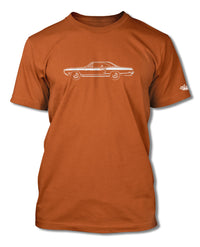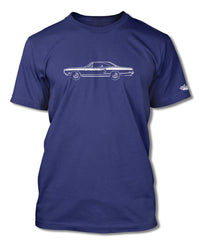 1970 Dodge Coronet 500 Coupe T-Shirt - Men - Side View
Product Code:
1970_DODGE_CORO_500_CP_S_BLK
1970 Dodge Coronet 500 Coupe T-Shirt for Men
The 1970 Dodge Coronet is attractive to some Mopar devotees because of its value as a conversation piece–since its introduction in late 1969, the car's aggressively styled front end has polarized enthusiasts. To stir up a little excitement around its mid-size car offering, Dodge tossed the conventional front-end treatment of the 1968 and 1969 Coronet, with its full-width grille and massive chrome front bumper, in favor of a split grille, ensconced in a pair of twin chrome loops that tapered toward the center. These glowering grille moldings not only served as a fashion statement, but they acted as the car's front bumpers, as well. The design was more subtly echoed in the rear, with three taillamps on each side set in a pair of oblong dishes above a standard full-width bumper.
A game of subtle lights and shadows reveal the magnificent curves of the body of the 1970 Dodge Coronet 500 Coupe, a Legendary American Automobile. Detailed and harmonious, the artistic illustration has grabbed the essence of one of the most influential vehicle of the 20th century and is printed in front of the tee. Refine and stylish, it is a perfect wear for any occasion and to show your passion for a true Legend that lives forever: the 1970 Dodge Coronet 500 Coupe Short Sleeve T-Shirt.
The featured original artwork has been printed on a high-quality 6.0 oz 100% pre-shrunk American cotton t-shirt.
Seamless double-needle collar - sleeve bottom hems.
It is available in Black, Charcoal, Cherry Red, Forest Green, Indigo Blue, Kiwi, Maroon, Navy Blue, Nuts, Military Green, Orange, Purple, Rust, and Steel Blue
in sizes S - M - L - XL - 2XL - 3XL
*4 Extra Large (4XL), 5 Extra Large (5XL), and Extra Tall (XT) t-shirts are available through special order. Please contact us for colors' availability, pricing and estimated delivery.
*Dodge or any other marks are registered trademarks. Our products are not approved by any of these manufacturers and trademarks. We do not imply any association with these manufacturers and references are based on historical information in the public domain.