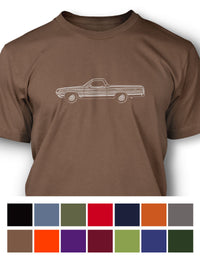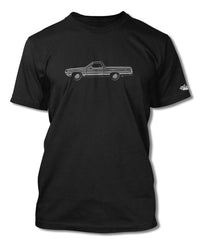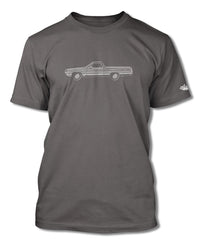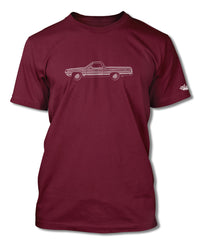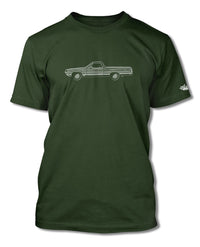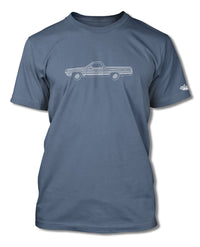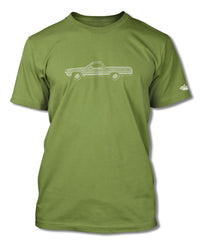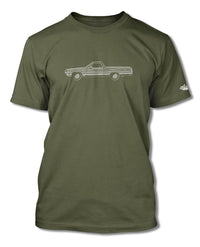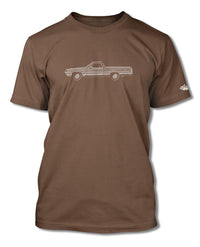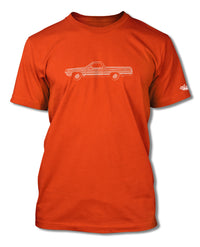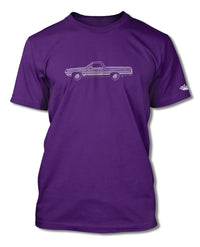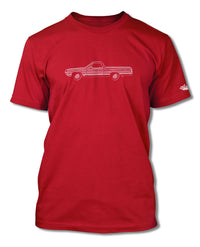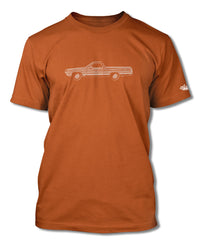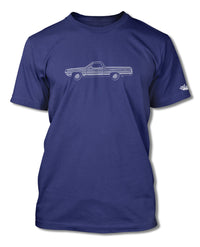 1970 Ford Ranchero Squire T-Shirt - Men - Side View
Product Code:
1970_FORD_RANCH_WOOD
1970 Ford Ranchero Squire T-Shirt for Men
While Chevrolet's El Camino used the same body from 1968 to 1972, 1970 had a complete restyle for the Ranchero, which had started with a boxy body style. Both the Torino and Ranchero featured a shallow-pointed grille and front end with smooth, somewhat more curvaceous lines influenced by coke bottle styling. A fourth trim option was made available in 1970. The Ranchero Squire was an upmarket trim package which featured a woodgrain applique similar to that found on the Country Squire station wagon. Like in previous years, all Torino trim and engine options could be ordered, including all-new Ram-Air 429 Cobra Jet or Super Cobra Jet engines (7 L) with the new "shaker" hood scoop, so named because it was directly mounted to the carburetor and shook with the engine at idle. Also available was a stylish grille that featured hide-away headlamps, as well as an optional hood with an oversized scoop which was standard on Torino GTs. The 1971 is distinguished by a grille divided by a center section. A minor but nevertheless important variation debuted with the 1970 model. Prior to 1970, no Ranchero had any interior badging identifying it as such. With the 1970 model came a "Ranchero" or "Ranchero GT" badge on the glove compartment rather than Fairlane or Torino badging.
A game of subtle lights and shadows reveal the magnificent curves of the body of the 1970 Ford Ranchero Squire, a Legendary American muscle car, coupe utility. Detailed and harmonious, the artistic illustration grabs the essence of one of the most influential vehicles of the 20th century. Printed in front of the tee, it contrasts magnificently with any chosen colors of the t-shirt. Refine, stylish, and elegant this is the perfect wear for any occasion and to show your passion. The 1970 Ford Ranchero Squire is a true Legend that lives forever as you proudly wear it on your Short Sleeve T-Shirt.
The featured original artwork has been printed on a high-quality 6.0 oz 100% pre-shrunk American cotton t-shirt.
Seamless double-needle collar - sleeve bottom hems.
It is available in Black, Charcoal, Cherry Red, Forest Green, Indigo Blue, Kiwi, Maroon, Navy Blue, Nuts, Military Green, Orange, Purple, Rust & Steel Blue.
in sizes S - M - L - XL - 2XL - 3XL
*4 Extra Large (4XL), 5 Extra Large (5XL), and Extra Tall (XT) T-shirts are available through special order. Please contact us for colors' availability, pricing and estimated delivery.
This product is designed, printed & packed in the USA.
* Ford or any other marks are registered trademarks. Our products are not approved by any of these manufacturers and trademarks. We do not imply any association with these manufacturers and references are based on historical information in the public domain.