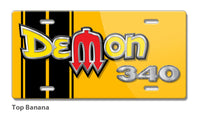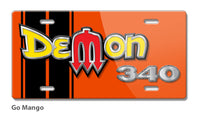 Dodge Dart Demon 340 1971 Emblem Novelty License Plate
Product Code:
1971_DART_DEMON_340_LOGO_LP_DRKGREEN
1971 Dodge Dart Demon 340 Emblem Novelty License Plate
The Dodge Demon was added to the lineup in 1971. Dodge gained a version of Plymouth's popular fastback Duster and was to be named the Beaver, but when Chrysler's marketing department learned that "beaver" was CB slang for… well you know what. The vehicle was renamed the "Dart Demon". It sat atop a 108 inch wheelbase which was shorter than the other Darts. The optional Demon 340 package was fitted with Chrysler's 340 small-block engine that produced an astonishing 275 horsepower. Also standard was a three-speed fully synchronized floor shifter, sport suspension, dual exhausts, and Rallye instrument cluster. On the exterior of the vehicle sat controversial cartoon devil decals. The Demon logo's proved to be too much for certain religious groups and pressured Dodge to remove it from the vehicles. In 1973, the decals were removed and the name was changed to the Dodge Dart Sport.

Perfect for all car enthusiasts that want to enhance the front look of their 1971 Dodge Dart Demon 340. These Novelty License Plates look great on the front of the car or a wall at home, garage, office, workshop, Man cave, private roadways or anywhere you feel you deserve a special deco spot. This is the ideal gift for any car enthusiast.
Available in: Top Banana, Black Velvet, Bright Blue, Dark Burnt Orange, Dark Blue, Dark Green, Go Mango, Gray, Light Blue, Panther Pink, Plum Crazy, Red, Sublime and White
Made of .032 Aluminum
6" x 12" (153 x 306 mm) standard automotive license plate size
4 holes for easy mounting
Water-resistant
UV protected for outdoor use and durability
Made in USA
* Dodge or any other marks are registered trademarks. Our products are not approved by any of these manufacturers and trademarks. We do not imply any association with these manufacturers and references are based on historical information in the public domain. While every endeavor has been made to accurately reproduce colors, there may be variations compare to the actual and true Plymouth colors, because of the print / sublimation process