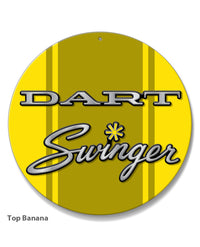 Dodge Dart Swinger 1971 Emblem Novelty Round Aluminum Sign
Product Code:
DOD_DART_SWING_71_ROUND_SIGN_BLK
Vintage 1971 Dodge Dart Swinger Emblem Novelty Round Sign

The Dart was refreshed for 1970 with front and rear changes designed to bring the car closer to the design themes found in Dodge's full-size vehicles through grille and contour changes. Dodge updated the front and rear styling. The hood featured long but narrow hood scoops, replacing the smaller vents. 14-inch wheels became standard equipment. Part-throttle downshift was added to the 8-cylinder automatic transmissions. In compliance with FMVSS 108, side marker lights and reflectors were installed at all four corners. The "Swinger" name was applied to all the Dart two-door hardtops except in the high-line custom series. A number of other changes were made to the Dart line to avoid internal competition with Dodge's new Challenger: the Dart convertible was discontinued along with the optional 383 ci, leaving the 275 bhp 340 4-barrel V8 as the top Dart engine.The performance model in the Dart line for 1970 was the Swinger 340 2-door hardtop. The 1970 Swinger 340 came with functional hood scoops with 340 emblems. Standard equipment included front disc brakes, heavy duty "Rallye" suspension, a 3.23:1 rear axle ratio, fiberglass-belted bias-ply tires mounted to 14" × 5½" steel wheels, and a bumble bee stripe. Optional equipment included an upgrade over the standard bench seat with all-vinyl bucket seats, with which a center console could be ordered. A performance hood upgrade with scoops was painted flat black with hood tie-down pins. Mechanical options included power-assisted brakes and steering. Rallye wheels and wire wheel covers were also optional, as was a 6000 rpm tachometer and a vinyl roof covering in black or white.
Perfect for all car enthusiasts that want to show their passion for their 1971 Dodge Dart Swinger, this Novelty Round Sign looks great on a wall at home, garage, office, workshop, Man cave, private roadways or anywhere you feel you deserve a special decoration spot. Choose between 14 different colors that contrast beautifully with the vintage 1971 Dodge Dart Swinger emblem. For any car guy, this is the ideal gift to add style and show their pride.
Available in: Red - Purple - Light Green - Orange - Yellow - Pink - Bright Blue - Light Blue - Black Velvet - Dark Orange - Dark Green - Dark Blue - Gray - White
Made of .042 Aluminum
11 3/4" (30 cm) diameter
1 hole for easy mounting
Water-resistant
UV protected for outdoor use and durability
Made in USA
* Dodge or any other marks are registered trademarks. Our products are not approved by any of these manufacturers and trademarks. We do not imply any association with these manufacturers and references are based on historical information in the public domain.