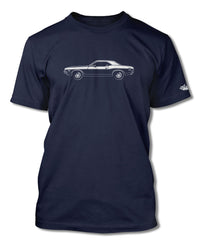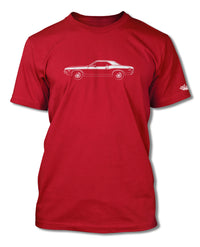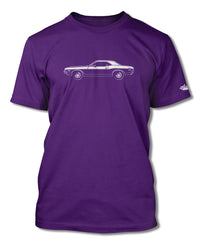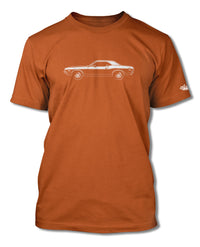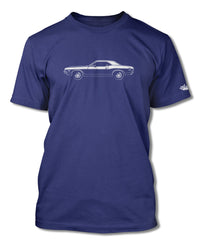 1972 Dodge Challenger Base Hardtop T-Shirt - Men - Side View
Product Code:
1972_DODGE_CHALL_GEN_HT_S_BLK
1972 Dodge Challenger Base Hardtop T-Shirt for Men
For 1972 model year, the front of the Challenger was reworked including the addition of a new grille that extended beneath the front bumper, as well as new rear tail-lights. The options lists (both for performance and appearance/convenience items) had been drastically cut back. The convertible version (though a sun-roof was made available), most interior upgrade options (in particular leather seats), comfort/convenience items (in particular power windows and power seats), and all the big-block engine options were gone. The R/T series was replaced by the Challenger Rallye series. The Rallye model featured four simulated vents on the front fenders, from which exited matte black strobe tape stripes. As Dodge did not offer the Hemi or the 440 for 1972, the engine choices were down to three: the 225 cu in (3.7 L) slant-6, 318 cu in (5.2 L) V8, and a 340 cu in (5.6 L) V8 that was equipped with a 4-barrel carburetor, dual exhausts, as well as a performance-oriented camshaft and heads. All three engines were detuned to lower compression ratios in order to run on lead-free gasoline, and the horsepower ratings were lowered to reflect the more accurate Society of Automotive Engineers (SAE) net horsepower calculations. Each engine could be mated to a 3-speed manual or automatic transmission, while the 340 could also be equipped with a 4-speed manual if so ordered. The performance axle ratios were also gone except for a 3.55 sure grip which could only be had with the 340 and the heavy duty suspension. Toward the end of the 1971 model year a few convertibles were made with the 1972 front end (grille, lights, etc.) and rear end (tail lights and their panel). Sales were slow with less than 25,000 units being produced.
A game of subtle lights and shadows reveal the magnificent curves of the body of the 1972 Dodge Challenger Base Hardtop, a Legendary American Automobile. Detailed and harmonious, the artistic illustration has grabbed the essence of one of the most influential vehicle of the 20th century and is printed in front of the tee. Refine and stylish, it is a perfect wear for any occasion and to show your passion for a true Legend that lives forever: the 1972 Dodge Challenger Base Hardtop Short Sleeve T-Shirt.
The featured original artwork has been printed on a high-quality 6.0 oz 100% pre-shrunk American cotton t-shirt.
Seamless double-needle collar - sleeve bottom hems.
It is available in Black, Charcoal, Cherry Red, Forest Green, Indigo Blue, Kiwi, Maroon, Navy Blue, Nuts, Military Green, Orange, Purple, Rust, and Steel Blue
in sizes S - M - L - XL - 2XL - 3XL
*4 Extra Large (4XL), 5 Extra Large (5XL), and Extra Tall (XT) t-shirts are available through special order. Please contact us for colors' availability, pricing and estimated delivery.
*Dodge or any other marks are registered trademarks. Our products are not approved by any of these manufacturers and trademarks. We do not imply any association with these manufacturers and references are based on historical information in the public domain.