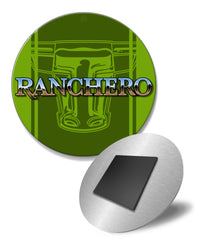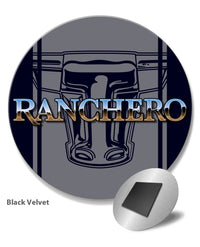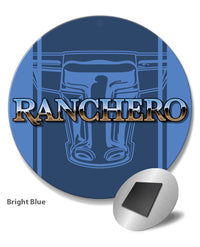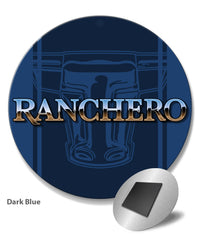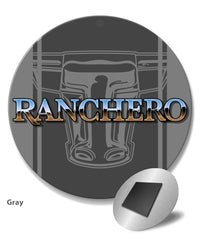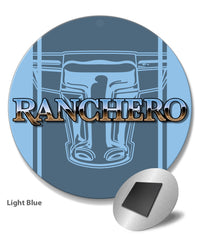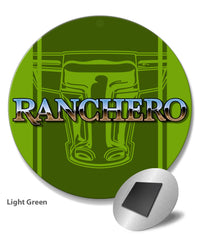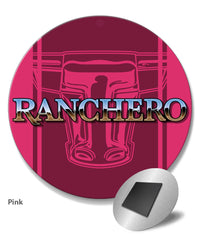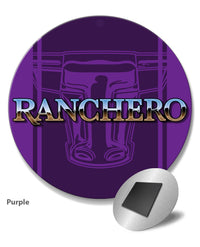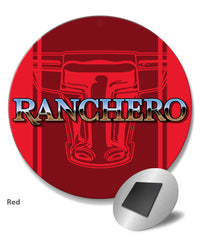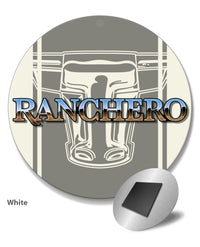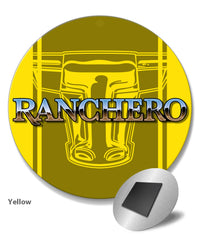 1977 - 1979 Ford Ranchero Emblem Round Fridge Magnet
Product Code:
77_79_RANCH_EMBLEM_RD_MAG_BLACK
1977 - 1979 Ford Ranchero Emblem Novelty Round Fridge Magnet

Although it wasn't particularly popular at the time, the seventh-gen Ranchero is very desirable nowadays. With the Torino out of the game for the 1977 model year, Ford used its replacement, the LTD II mid-size, as a base for the seventh-generation Ranchero. Luckily, the LTD II shared underpinnings with the outgoing Torino, so redesigning the Ranchero wasn't a massive effort. Ford offered the same three models between 1977 and 1979, paired to one of the three V-8 engines. With the inline-six discontinued, options included 4.9, 5.8, and 6.6-liter V-8 powerplants.
Perfect for all car enthusiasts that want to show their passion for their car. This Novelty Round Fridge Magnet shows the magnificent 1977 - 1979 Ford Ranchero Emblem on a vibrant and colorful background with racing stripes. Choose between 14 different colors that contrast beautifully with the 1977 - 1979 Ford Ranchero Emblem. This is the perfect way to show your passion for a true American muscle car, coupe utility. This 2.25" (57 mm) round magnet will look so cool on your fridge, tool box, metal shelving, or anywhere you want, as long as it's ferromagnetic. It is quality made of .045" Aluminum that will not fade or break and a1/2 inch square magnet in the back. For any car guy, this is the ideal gift to add style and show their passion, even in the middle of the kitchen.
Available in: Red - Purple - Light Green - Orange - Yellow - Pink - Bright Blue - Light Blue - Black Velvet - Dark Orange - Dark Green - Dark Blue - Gray - White
- Made of 0.045" (1.14 mm) Aluminum
- 2.25" (57.2 mm) diameter
- Durable aluminum material
- Water-resistant & easy to clean
- 1" backer magnet for adhesion
The image is permanently infused into the aluminum that will not crack, fade, chip, or peel (we do not use stickers or decals).
This product is made in the USA.
* Ford or any other marks are registered trademarks. Our products are not approved by any of these manufacturers and trademarks. We do not imply any association with these manufacturers and references are based on historical information in the public domain.