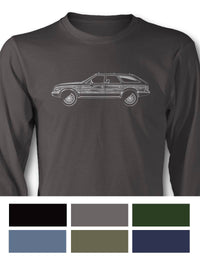 1980 – 1988 AMC Eagle Station Wagon T-Shirt - Long Sleeves - Side View
Product Code:
AMC_EAGLE_1980_SW_LS_BLK_S
1980 – 1988 AMC Eagle Station Wagon Long Sleeve T-Shirt
The AMC Eagle was the first volume-produced, four-wheel-drive passenger car built in the United States in modern times. They were also very versatile, being offering as a two-door lift-back, four-door sedan and station wagon body styles. Introduced in August 1979 for the 1980 model year. They were affordable cars offering a comfortable ride and handling on pavement together with superior traction in light off-road use through AMC's innovative engineering and packaging. Although the definition is not precise, the AMC Eagle is today known as one of the first crossover vehicles, offering passenger-car comfort, plus 4wd security for all-weather security.
In 1981, the two-door subcompact-sized SX/4, joined the Eagle line. The initial proposal for production came from Roy Lunn, the chief design engineer for AMC Jeep. "Project 8001 plus Four" was Lunn's code name. In February 1977, AMC contracted FF Developments to build a prototype vehicle. Testing and further development proved the feasibility of a vehicle with greater ground clearance, larger 15-inch wheels. The Eagle also bridged the sizable price gap between the low-end imported 4WD Subaru and the large-sized domestic four-wheel-drive vehicles like the Jeep Wagoneer. The Eagle represented a "burst of AMC's genetic creativity...quickly captured the attention of many American drivers who found its unique union of four-wheel drive safety and security with the comfort of an automobile."
A game of subtle lights and shadows reveal the magnificent curves of the body of the 1980 – 1988 AMC Eagle Station Wagon, a Legendary American Automobile. Detailed and harmonious, the artistic illustration has grabbed the essence of one of the most influential vehicle of the 20th century and is printed in front of the tee. Refine and stylish, it is a perfect wear for any occasion and to show your passion for a true Legend that lives forever: the 1980 – 1988 AMC Eagle Station Wagon Long Sleeve T-Shirt.
The featured original artwork has been printed on a high quality 6.0 oz 100% pre-shrunk American cotton t-shirt.
Seamless double needle collar - sleeve & bottom hems.
It is available in Black, Charcoal, Indigo, Forest Green, Navy & Military Green in size S - M - L - XL - 2XL - 3XL

*EAGLE or any other marks are registered trademarks. Our products are not approved by any of these manufacturers and trademarks. We do not imply any association with these manufacturers and references are based on historical information in the public domain.