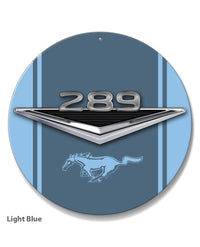 289 c.i. V8 Engine Emblem Round Aluminum Sign
Product Code:
FORD_MUST_289_EMBLEM_RD_SIGN_BLACK
Vintage 289 c.i. V8 Engine Emblem Novelty Round Sign

The Ford Mustang, introduced in 1964, became an overnight sensation and the most successful model launch in automotive history. Its styling was fresh and modern, and combined sporty performance with personal luxury. Mustang's options list included a wide range of engines from inline 6 to the high-winding 289 V-8 engines. The 289 cu in (4.7 L) was also introduced in April 1963. Bore was expanded to 4.00 in (101.6 mm), becoming the standard bore for most small block engines. Stroke remained at 2.87 inches. The 289 weighed 506 lb (230 kg). For 1965, the compression ratio of the base 289 was raised to 9.3:1, increasing power and torque to 200 hp (149 kW) at 4,400 rpm and 282 lb⋅ft (382 N⋅m) at 2,400 rpm, respectively. In 1968, the two-barrel was reduced to 195 hp (145 kW). n 1965 the four-barrel version was increased to 10.0:1 compression, and was rated at 225 hp (168 kW) at 4,800 rpm and 305 lb⋅ft (414 N⋅m) at 3,200 rpm. Around 3,500,000 289-2V and 289-4V engines were made at CEP1 in 1963-1967 and 800,000 289-2V at WEP1.
Perfect for all car enthusiasts that want to show their passion for their 289 c.i. V8 Engine Emblem. This Novelty Round Sign looks great on a wall at home, garage, office, workshop, Man cave, private roadways, or anywhere you feel you deserve a special decoration spot. Choose between 14 different colors that contrast beautifully with the vintage 289 c.i. V8 Engine Emblem. Our signs are quality made of .042" Aluminum that will not rust, crack, break or peel and are UV protected for outdoor use and durability. For any car guy, this is the ideal gift to add style and show their pride.
Available in: Red - Purple - Light Green - Orange - Yellow - Pink - Bright Blue - Light Blue - Black Velvet - Dark Orange - Dark Green - Dark Blue - Gray - White
Made of .042 Aluminum
11 3/4" (30 cm) diameter
1 hole for easy mounting
Water-resistant
UV protected for outdoor use and durability
The image is permanently infused into the aluminum that will not crack, fade, chip, or peel (we do not use stickers or decals).
Made in the USA
* Ford or any other marks are registered trademarks. Our products are not approved by any of these manufacturers and trademarks. We do not imply any association with these manufacturers and references are based on historical information in the public domain.