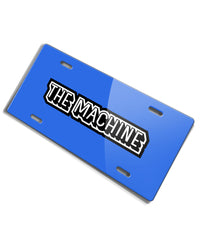 1970 AMC Rebel The Machine Emblem Novelty License Plate - Vintage Emblem
Product Code:
AMC_REBEL_MACHINE_70_LP_BABY
AMC Rebel The Machine 1970 Novelty License Plate
The most recognizable muscle car version of the AMC Rebel was named The Machine and available for the 1970 model year. Following the success of the 1969 SC/Rambler, the Machine was painted in its most patriotic or flamboyant factory trim: white with bold red, white, and blue reflective stripes. The Rebel Machine was build for the NHRA F-stock class. The introductory marketing campaign consisted of ten vehicles that were driven from the factory directly to the strip and raced in the condition they arrived in. AMC's marketing objective was for each AMC dealer to have one colorful Rebel Machine on display in their showrooms to lure non-AMC potential customers so they could be introduced to the other models. The Machine features a large ram-air intake hood scoop that was painted Electric Blue with a large tachometer visible to the driver integrated into a raised fairing at the rear of the scoop. Today, surviving models of the Rebel Machine are bold reminders that tiny AMC once took on the big boys on the streets and strips of America.
Perfect for all car enthusiasts that want to enhance the front look of their AMC Rebel The Machine 1970. These Novelty License Plates look great on the front of the car or a wall at home, garage, office, workshop, Man cave, private roadways or anywhere you feel you deserve a special deco spot. This is the ideal gift for any car enthusiast.

Available in: Baby Blue - Black - British Green - Cattail Brown - Dark Red - Good Orange - Gray - Hot Pink - Italian Red - LeMans Blue - Light Green - Military Green - Racing Blue - Steel Blue - White - Yellow
Made of .032 Aluminum
6" x 12" (153 x 306 mm) standard automotive license plate size
4 holes for easy mounting
Water-resistant
UV protected for outdoor use and durability
Made in USA

* AMC or any other marks are registered trademarks. Our products are not approved by any of these manufacturers and trademarks. We do not imply any association with these manufacturers and references are based on historical information in the public domain.