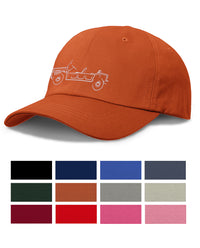 Austin Mini Moke Baseball Cap for Men & Women
Product Code:
MINI_MOKE_SDLND_CAP_BLK
Austin Mini Moke 1963 - 1993 Baseball Cap for Men and Women
The initial idea to his car was to create a light multi-purpose vehicle for the British military based on the Austin Morris Mini. Its development started in 1959 parallel to the launch of the Mini. But soon it became clear that it would not meet the demands for an off-road purpose. In 1963 the British Motor Corporation decided to turn the project into a kind of a motorized buckboard for private - and fun - missions. About one year later the beach-buggy like car appeared on the market as the Mini Moke (which is an archaic dialect term for donkey). It immediately became a cult transportation in Australia, in the United States and last but not least in tropical resorts like the Caribbean. Technically the Moke was nothing else but the Mini micro car. The Moke has been marketed under various names including Austin Mini Moke, Morris Mini Moke and Leyland Moke.
A game of subtle lights and shadows reveal the magnificent curves of the Austin Mini Moke, a Legendary British Classic Car. Detailed and harmonious, the artistic illustration has captured the essence of one of the most influential vehicle of the 20th century and is embroidered on the front of our caps.
​Refined and stylish, it is the perfect head protection for a long sunny drive in your convertible or a cool wear for any occasion to show your passion for a true Legend: the Austin Mini Moke Baseball Cap Hat for Men and Women.
The featured original artwork has been embroidered on a high quality 100% cotton solid six-panel low-profile twill cap:
• Unconstructed crown with top button and eyelets on side panels
• Matching color sweatband
• Pre-curved bill with four rows of stitching
• Closure consists of a fabric band with brass buckle and brass grommet hideaway closure or velcro bands.

It is available in Black , Burnt Orange , Charcoal , Cool Blue , Hot Pink , Light Pink , Maroon , Muddy , Navy Blue , Old Green, Red and Wheat in one size fits all.

WARNING: Every monitor displays colors differently. Our pictures and color swatches represent the closest approximation of the colors we provide, not a guarantee.

*Austin or any other marks are registered trademarks. Our products are not approved by any of these manufacturers and trademarks. We do not imply any association with these manufacturers and references are based on historical information in the public domain.