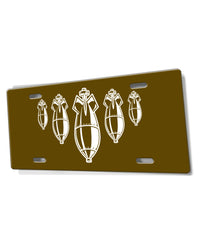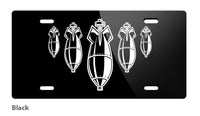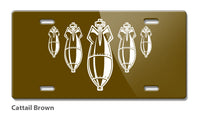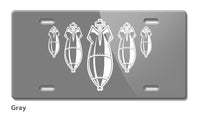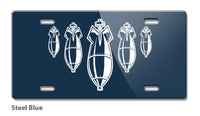 Strategic Bombing Air Raid Novelty License Plate
Product Code:
FFI_EMBLEM_LP_BLACK
Strategic Bombing Air Raid Emblem Novelty License Plate

Strategic bombing during World War II was the sustained aerial attack on railways, harbours, cities, workers' and civilian housing, and industrial districts in enemy territory during World War II. Strategic bombing is a military strategy which is distinct from both close air support of ground forces and tactical air power.
During World War II, it was believed by many military strategists of air power that major victories could be won by attacking industrial and political infrastructure, rather than purely military targets. Strategic bombing often involved bombing areas inhabited by civilians and some campaigns were deliberately designed to target civilian populations in order to terrorize them and disrupt their usual activities. International law at the outset of World War II did not specifically forbid aerial bombardment of cities despite the prior occurrence of such bombing during World War I, the Spanish Civil War, and the Second Sino-Japanese War.
Strategic bombing during World War II began on 1 September 1939 when Germany invaded Poland and the Luftwaffe (German Air Force) began bombing cities and the civilian population in Poland in an aerial bombardment campaign. As the war continued to expand, bombing by both the Axis and the Allies increased significantly. The Royal Air Force began bombing military targets in Germany, such as docks and shipyards, in March 1940, and began targeting Berlin in August 1940. In September 1940, the Luftwaffe began targeting British cities in the Blitz. After the beginning of Operation Barbarossa in June 1941, the Luftwaffe attacked Soviet cities and infrastructure. From February 1942 onward, the British bombing campaign against Germany became even less restrictive and increasingly targeted industrial sites and civilian areas. When the United States began flying bombing missions against Germany, it reinforced these efforts and controversial firebombings were carried out against Hamburg (1943), Dresden (1945), and other German cities.
In the Pacific War, the Japanese bombed civilian populations throughout the war (e.g. in Chongqing). The US air raids on Japan began in earnest in October 1944 and by March 1945 had started their escalation into widespread firebombing, which culminated in the atomic bombings of Hiroshima and Nagasaki on 6 and 9 August 1945, respectively.
The effect of strategic bombing was highly debated during and after the war. Both the Luftwaffe and RAF failed to deliver a knockout blow by destroying enemy morale. However, some argued that strategic bombing of non-military targets could significantly reduce enemy industrial capacity and production and in the opinion of its interwar period proponents, the surrender of Japan vindicated strategic bombing.
Available in: Military Green - Brown - Steel Blue - Gray - Gray - Black
Made of .032 Aluminum
6" x 12" (153 x 306 mm) standard automotive license plate size
4 holes for easy mounting
Water-resistant
UV protected for outdoor use and durability
Made in USA
While every endeavor has been made to accurately reproduce colors, there may be variations compare to the sample colors, because of the print / sublimation process