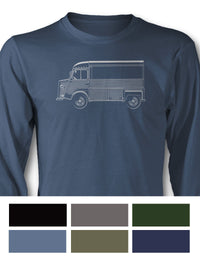 Citroen HY Type H Van 1947 – 1981 T-Shirt - Long Sleeves - Side View
Product Code:
CITR_HY_VAN_LS_BLK_S
Citroen HY Type H Van 1947 – 1981 Long Sleeve T-Shirt
The Citroën H Van, Type H, H-Type or HY was a panel van light truck) produced by Citroen between 1947 and 1981. It was developed as a simple front wheel driven van after WW2. Like the 1934 traction Avant, the H had a unitary body with no separate frame, front independent suspension and of course front-wheel drive. For a commercial van, this combination provided unique benefits – a flat floor very close to the ground, and 6 ft (180 cm) standing height, with a side loading door. The distinctive corrugated bodywork used throughout the period of production was inspired by German Junker aircrafts, as Henry Ford also adopted this construction for the Ford Tri-Motor passenger aircraft. The ribs added strength without adding weight, and required only simple, low-cost press tools. The flat body panels were braced on the inside by 'top hat' box sections, at right angles to the ribs. The welded floor was strong enough to support the weight of a horse. Citroën's teams worked on 8 projects and only the last one was developed, giving it its name: "H". Most Type H vans were sold as model HY. Other models include H (early versions), HX (lesser load capacity), HP (flat-bed pick-up), HZ, and HW (greater load capacity). For a time they were also sold as model 1600. When used by the French police, it was called "panier à salade" ("salad basket"). A total of 473,289 were produced in 34 years in factories in France and Belgium.
A game of subtle lights and shadows reveal the magnificent curves of the body of the Citroen HY Type H Van 1947 – 1981, a Legendary French Automobile. Detailed and harmonious, the artistic illustration has grabbed the essence of one of the most influential vehicle of the 20th century and is printed in front of the tee. Refine and stylish, it is a perfect wear for any occasion and to show your passion for a true Legend that lives forever: the Citroen HY Type H Van 1947 – 1981 Long Sleeve T-Shirt.
The featured original artwork has been printed on a high quality 6.0 oz 100% pre-shrunk American cotton t-shirt.
Seamless double needle collar - sleeve & bottom hems.
It is available in Black, Charcoal, Indigo, Forest Green, Navy & Military Green in size S - M - L - XL - 2XL - 3XL

*CITROEN or any other marks are registered trademarks. Our products are not approved by any of these manufacturers and trademarks. We do not imply any association with these manufacturers and references are based on historical information in the public domain.