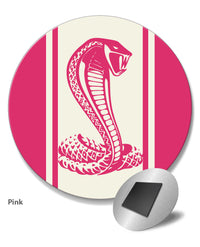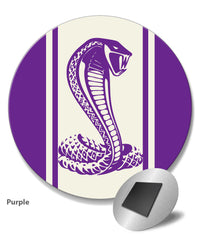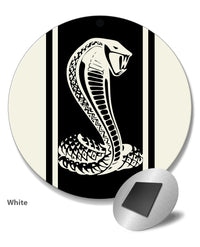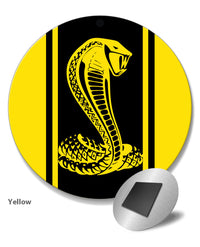 Cobra Snake Emblem Round Fridge Magnet
Product Code:
FORD_MUST_COBRA_SNAKE_EMBLEM_RD_MAG_BLACK
Vintage Cobra Snake Emblem Novelty Round Fridge Magnet

The Ford Mustang Cobra's history is closely intertwined with that of the Shelby Mustangs. Both the Shelby and Cobra represent the pinnacle of Mustang performance. It was Carroll Shelby, not Ford Motor Company, who first used the name Cobra on a car. Shelby American's AC Cobras were the perfect mix of a lightweight European sports car and American V8 power. They could blaze around corners, offering tight handling at incredible speeds.. The Cobra name was first introduced in a Ford line back in 1962 with the Shelby Cobra models of fame and flair. These cars, along with the 335-hp 1968 Cobra Jet, helped establish the Cobra name as a powerhouse on the road. The Cobra brand continued to show up in Ford cars through the 1970s. Take the 1973 Mustang Mach 1, for example, that used a 428 cubic inch Cobra Jet V8 engine. One of the Mach 1s was in the original 1974 Gone in 60 Seconds film. However, Ford didn't officially develop the Mustang Cobra until after the 1974 redesign of the Mustang line, known as the Mustang II generation. The first Mustang Cobra arrived in 1976 and was named the Cobra II. This name caused some confusion because there was no Cobra I.
Perfect for all car enthusiasts that want to show their passion for their Ford Mustang. This Cobra Snake Emblem Novelty Round Fridge Magnet looks great on a wall at home, garage, office, workshop, Man cave, private roadways, or anywhere you feel you deserve a special decoration spot. Choose between 14 different colors that contrast beautifully with the vintage Cobra Snake Emblem. This 2.25" (57 mm) round magnet will look so cool on your fridge, tool box, metal shelving, or anywhere you want, as long as it's ferromagnetic. It is quality made of .045" Aluminum that will not fade or break and a1/2 inch square magnet in the back. For any car guy, this is the ideal gift to add style and show their passion, even in the middle of the kitchen.
Available in: Red - Purple - Light Green - Orange - Yellow - Pink - Bright Blue - Light Blue - Black Velvet - Dark Orange - Dark Green - Dark Blue - Gray - White
- Made of 0.045" (1.14 mm) Aluminum
- 2.25" (57.2 mm) diameter
- Durable aluminum material
- Water-resistant & easy to clean
- 1" backer magnet for adhesion
The image is permanently infused into the aluminum that will not crack, fade, chip, or peel (we do not use stickers or decals).
Made in the USA
* Ford or any other marks are registered trademarks. Our products are not approved by any of these manufacturers and trademarks. We do not imply any association with these manufacturers and references are based on historical information in the public domain.