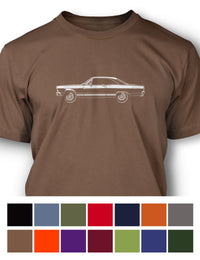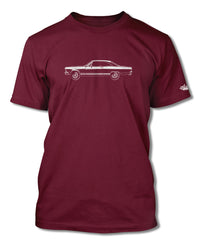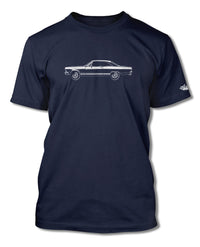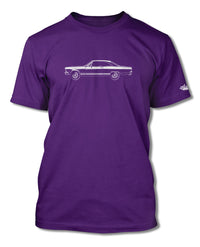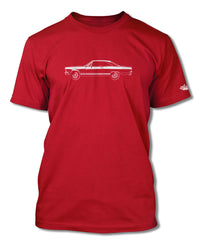 1966 Ford Fairlane GTA Hardtop T-Shirt - Men - Side View
Product Code:
1966_FORD_FAIRL_HT_GTA_S_BLK
1966 Ford Fairlane GTA Hardtop T-Shirt for Men
The Ford Fairlane is an automobile model that was sold between the 1955 and 1970 model years by Ford in North America. Taking its name from the Dearborn, Michigan estate of Henry Ford, the Fairlane nameplate was used for seven different generations of vehicles. The Fairlane was revised in 1966. The '66 was an all-new car, sporting a 116-inch wheelbase and a stacked-headlamp nose that resembled a junior-league Galaxie. Beneath the crisp lines of the faux-scooped hood lay Ford's formidable S-code 390GT engine: 335hp, 11.0:1 compression, and a Holley four-barrel atop 390 snarling cubic inches. Standard transmission was a three-speed stick, although a Toploader four-speed stick and a C-6 automatic were both optional. It was directly comparable to the '66 Chevelle SS396, both in power and price (five cubes, five horses and about 50 bucks in base price separated them). Strictly speaking, the GT was a manual-shift car; the GTA was the automatic-transmission version, following the curious European convention of advertising what kind of transmission your car had on its flanks. The press was generally enthusiastic, but a '66 GTA that Car and Driver tested had been secretly tweaked by Holman-Moody, then both drag-tested and run around the Bridgehampton road course, with American road-race star Masten Gregory at the wheel. It acquitted itself admirably at the drag strip, and while the firm-shifting C-6 automatic came in for special commendation on the road course, the brakes and (admittedly modified) suspension settings meant that it came in second-to-last in the magazine's subjective evaluations. Ford's effort was more than a modest success: With 33,015 hardtops and 4,327 convertibles rolling off the line, Ford finally had a presence in the growing supercar field. Hoping to capitalize on this strong start, Ford engineered a number of changes into the '67 models: Front disc brakes became standard, and Ford's full array of V-8 engines was made available in the GT, with the exception of the hot 427. A handful of 427 Fairlanes were produced, though all were 500 models, not GT/GTAs. Despite this, sales roughly halved, with 18,670 hardtops and just 2,117 convertibles being built. The 1968 restyle means that Ford's first by-the-numbers muscle car was a two-year-only machine with 58,129 GTs built over two years.
A game of subtle lights and shadows reveal the magnificent curves of the body of the 1966 Ford Fairlane GTA Hardtop, a Legendary American muscle car. Detailed and harmonious, the artistic illustration grabs the essence of one of the most influential vehicles of the 20th century. Printed in front of the tee, it contrasts magnificently with any chosen colors of the t-shirt. Refine, stylish, and elegant this is the perfect wear for any occasion and to show your passion. The 1966 Ford Fairlane GTA Hardtop is a true Legend that lives forever as you proudly wear it on your Short Sleeve T-Shirt.
The featured original artwork has been printed on a high-quality 6.0 oz 100% pre-shrunk American cotton t-shirt.
Seamless double-needle collar - sleeve bottom hems.
It is available in Black, Charcoal, Cherry Red, Forest Green, Indigo Blue, Kiwi, Maroon, Navy Blue, Nuts, Military Green, Orange, Purple, Rust & Steel Blue.
in sizes S - M - L - XL - 2XL - 3XL
*4 Extra Large (4XL), 5 Extra Large (5XL), and Extra Tall (XT) T-shirts are available through special order. Please contact us for colors' availability, pricing and estimated delivery.
This product is designed, printed & packed in the USA.
* Ford or any other marks are registered trademarks. Our products are not approved by any of these manufacturers and trademarks. We do not imply any association with these manufacturers and references are based on historical information in the public domain.