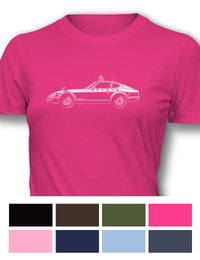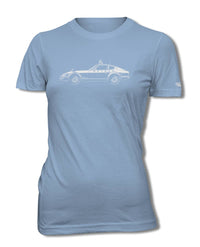 Datsun Fairlady 240Z Japanese Police 1972 T-Shirt - Women - Side View
Product Code:
DATS_240Z_POLICE_WOMEN_S_BLK
Datsun Fairlady 240Z Japanese Police 1972 T-Shirt for Women
The first generation FairladyZ S30 (also known as Datsun 240Z) was developed as successor of Datsun Sports 2000 and released in December 1969 in Japan. It became a big hit not only in Japan but in foreign countries such as North America because of the beautiful styling, improved driving comfort and safety, high performance engine, 4-wheel independent suspension, and the affordable price. The initial lineup in Japan had only 2.0-liter engines, however, 2.4-liter engine series, as well as the exported editions, was added in 1971. The top of the line 240ZG – with its long nose, over-fenders and rear spoiler – was the fastest Japanese car, boasting a top speed of 210km/h. That was this version that was used as a police car of Kanagawa Prefectural Police in March 1972until it reached the travel distance of 370,940km in total. Specially equipped for highway patrols, it features a siren, flashing red light, speedometer with stop device, radio. After retirement, this particular vehicle, was preserved by Nissan as a commemorative car.
A game of subtle lights and shadows reveal the magnificent curves of the body of the Datsun Fairlady 240Z Japanese Police 1972, a Legendary Japanese Automobile. Detailed and harmonious, the artistic illustration has grabbed the essence of one of the most influential vehicle of the 20th century and is printed in front of the tee. Refine and stylish, it is a perfect wear for any occasion and to show your passion for a true Legend that lives forever: the Datsun Fairlady 240Z Japanese Police 1972 Women Short Sleeves T-Shirt.
The featured original artwork has been printed on a high quality 4.5 oz 100% pre-shrunk combed ringspun American cotton t-shirt. Its soft feel and fashion fit makes it so comfortable to wear.
Features: Seamless collarette, Taped shoulder-to-shoulder, Double-needle stitching on sleeves and bottom hem, Side seamed, Classic semi-contoured silhouette, Tear off label
It is available in Black, Chocolate, City Green, Hot Pink, Light Blue, Light Pink, Navy & Steel Blue in size S - M - L - XL - 2XL

*DATSUN or any other marks are registered trademarks. Our products are not approved by any of these manufacturers and trademarks. We do not imply any association with these manufacturers and references are based on historical information in the public domain.