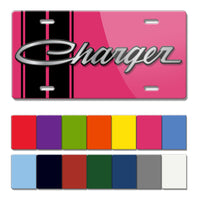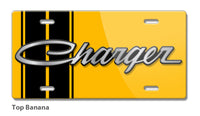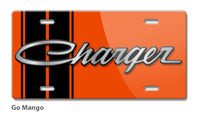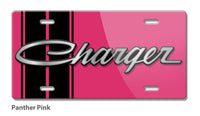 Dodge Charger 1968 - 1973 Emblem Novelty License Plate
Product Code:
1968_1973_CHARGER_LOGO_LP_DRKGREEN
1968 - 1973 Dodge Charger Emblem Novelty License Plate

The Dodge Charger was produced from 1966 through 1978, 1983 through 1987, and again in 2006. Since its inception, and for most of the time, the impressive performance and stylish bodies made the Charger an instant success. The first, second and third generation were mid-size two-door performance car while the other generations went to subcompact and later to four-door sedans. Back in the 60s, Dodge dealers were impatiently pressuring the automaker for a response to the Ford Mustang. Instead of focusing its attention on a Mustang-fighting pony car, Dodge looked to counter the AMC Marlin and the Ford Thunderbird with a sleek fastback two-door hardtop. A Charger II show car was displayed at auto shows throughout 1965, and the production Charger made its public debut on January 1, 1966, in a television commercial aired during the Rose Bowl. Viewers were introduced to the "Leader of the Dodge Rebellion," and the 1966 Charger immediately garnered both criticism and praise from the public and reviewers alike. Some panned its fastback styling for being too similar to the AMC Marlin, while others questioned the value of its $3,122 starting price, which was over $400 more than the Marlin. Over time the Charger became a to the high of success and made it an absolute Legend.
To counter the 67's slide of sales, Dodge debuted a newly styled Charger for the 1968 model year that did away with the earlier model's fastback roof in favor of a more conventional flying buttress design with a recessed rear window. The Kamm-style rear opted for four taillamps over a full-width panel, and to give the car an even sportier look. The powertrains were the same as the ones used in the 1967 Charger. The design was a success, the demand was high and 96,100 Dodge Chargers were actually produced. The R/T package was a popular option with 17,665 buyers. Standard on the R/T performance package was the 440 Magnum engine producing 375 horsepower. Many argue that the 1968 was the most appealing muscle car of all 1960's era. The Charger's new emphasis on performance over personal luxury helped land it a starring role in the 1968 Steve McQueen film Bullitt, and consumers once again gave the car a second look.
Perfect for all car enthusiasts that want to enhance the front look of their Dodge Charger. These Novelty License Plates look great on the front of the car or a wall at home, garage, office, workshop, Man cave, private roadways or anywhere you feel you deserve a special deco spot. This is the ideal gift for any car enthusiast.
Available in: Top Banana, Black Velvet, Bright Blue, Dark Burnt Orange, Dark Blue, Dark Green, Go Mango, Gray, Light Blue, Panther Pink, Plum Crazy, Red, Sublime and White
Made of .032 Aluminum
6" x 12" (153 x 306 mm) standard automotive license plate size
4 holes for easy mounting
Water-resistant
UV protected for outdoor use and durability
Made in USA
* Dodge or any other marks are registered trademarks. Our products are not approved by any of these manufacturers and trademarks. We do not imply any association with these manufacturers and references are based on historical information in the public domain. While every endeavor has been made to accurately reproduce colors, there may be variations compare to the actual and true Plymouth colors, because of the print / sublimation process