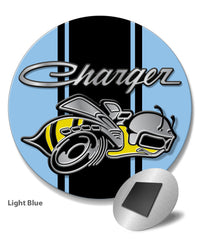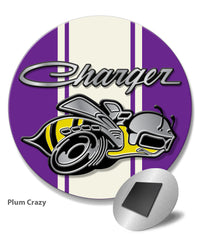 Dodge Charger Super Bee 1971 Emblem Novelty Round Fridge Magnet
Product Code:
DOD_CHARGER_SUPERBEE_70_RD_MAG_BLK
Vintage 1971 Dodge Charger Super Bee Emblem Novelty Round Fridge Magnet

The Charger was redesigned in 1970 and became available in new colors. The SE version added leather seats and an electric sliding sunroof. The 500 was no longer a high-performance model, instead it became an upgraded Charger with bucket seats, wheel-opening moldings, and 500 medallions in the front grille and rear taillight recess. Gone also was the winged Daytona, with the R/T once again the top Charger. Dodge introduced the 440 Six Pack which featured three Holley two-barrel carburetors and produced 390 horsepower. In total, there were just over 10,300 Chargers sold in 1970. This year saw also a new wrap-around chrome front bumper framing the grille. New exterior colors included Plum Crazy. Sublime, Panther Pink, Top Banana, and Hemi Orange. Midyear options included dual color-keyed mirrors and a rear spoiler. A new hood cutout made the option list for this year only, with "440" or "Hemi" spelled out in block letters with reflective silver tape. On the R/T, new rear-facing scoops with the R/T logo were mounted on the front doors.
Perfect for all car enthusiasts that want to show their passion for their 1971 Dodge Charger Super Bee. This 2.25" (57 mm) round magnet will look so cool on your fridge, tool box, metal shelving, or anywhere you want, as long as it's ferromagnetic. It is quality made of .045" Aluminum that will not fade or break and a1/2 inch square magnet in the back. Make room on the fridge, you deserve a special decoration spot in the middle of the other fridge magnets. Stick it to anything you'll like on your desk, car, workbench, toolbox, or man cave board. Choose between 14 different colors that contrast beautifully with the vintage 1971 Dodge Charger Superbee emblem. For any car guy, this is the ideal gift to add style and show their passion, even in the middle of the kitchen.
Available in: Red - Purple - Light Green - Orange - Yellow - Pink - Bright Blue - Light Blue - Black Velvet - Dark Orange - Dark Green - Dark Blue - Gray - White
- Made of 0.045" (1.14 mm) Aluminum
- 2.25" (57.2 mm) diameter
- Durable aluminum material
- Water-resistant & easy to clean
- 1" backer magnet for adhesion
Made in USA
* Dodge or any other marks are registered trademarks. Our products are not approved by any of these manufacturers and trademarks. We do not imply any association with these manufacturers and references are based on historical information in the public domain.