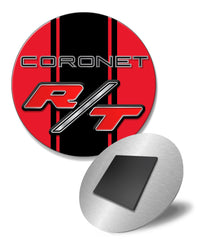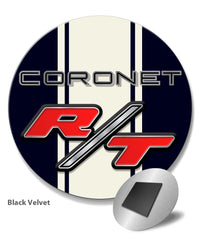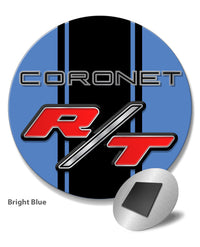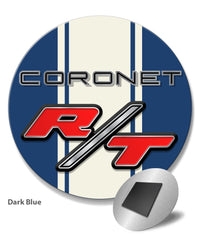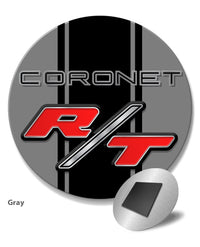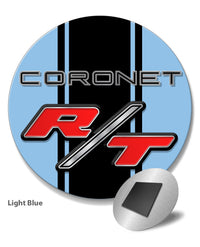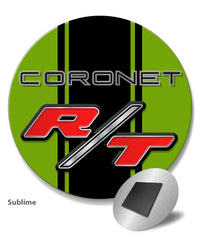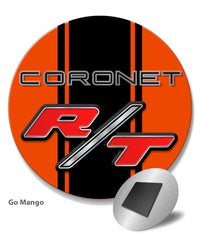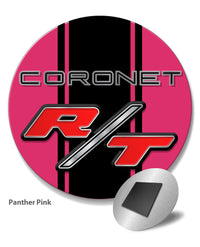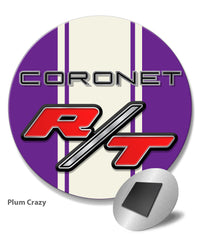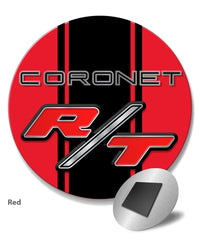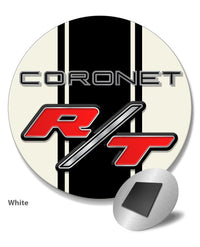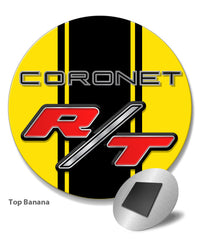 Dodge Coronet RT 1967 - 1968 Emblem Novelty Round Fridge Magnet
Product Code:
1967_68_CORONET_RT_RD_MAG_BLK
Vintage 1967 - 1968 Dodge Coronet RT Emblem Novelty Round Fridge Magnet

Dodge, despite its monster Hemi, had fallen behind in the muscle car image race: The Coronet 500 name didn't have the requisite sizzle, despite crisp new lines for 1966. Meant to convey the impression of a dual-purpose performance machine (for Road and Track), the Coronet R/T was available only as a full-on performance car–fast engines, cop-car suspension, a 150 MPH speedo, and no nonsense. The R/T version was introduced as two door hardtop version, and a 2 door convertible. Standard engine was Chrysler's largest, the 440-cid V-8, it was tweaked to 375 bhp and christened the Magnum. The only engine option was the 426-cid Hemi, now in its second year in "Street" trim and again rated at 425 bhp. The R/T version sold well - over 10,000 examples were produced. The 440 cubic-inch V8 engine was capable of propelling the car from zero to sixty in seven seconds.
Perfect for all car enthusiasts that want to show their passion for their 1967 - 1968 Dodge Coronet RT.This 2.25" (57 mm) round magnet will look so cool on your fridge, tool box, metal shelving, or anywhere you want, as long as it's ferromagnetic. It is quality made of .045" Aluminum that will not fade or break and a1/2 inch square magnet in the back. Make room on the fridge, you deserve a special decoration spot in the middle of the other fridge magnets. Stick it to anything you'll like on your desk, car, workbench, toolbox, or man cave board. Choose between 14 different colors that contrast beautifully with the vintage 1967 - 1968 Dodge Coronet RT emblem. For any car guy, this is the ideal gift to add style and show their passion, even in the middle of the kitchen.
Available in: Red - Purple - Light Green - Orange - Yellow - Pink - Bright Blue - Light Blue - Black Velvet - Dark Orange - Dark Green - Dark Blue - Gray - White
- Made of 0.045" (1.14 mm) Aluminum
- 2.25" (57.2 mm) diameter
- Durable aluminum material
- Water-resistant & easy to clean
- 1" backer magnet for adhesion
Made in USA
* Dodge or any other marks are registered trademarks. Our products are not approved by any of these manufacturers and trademarks. We do not imply any association with these manufacturers and references are based on historical information in the public domain.