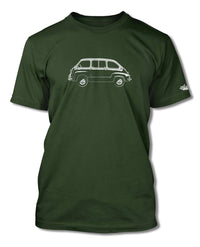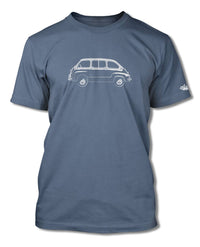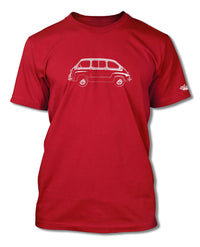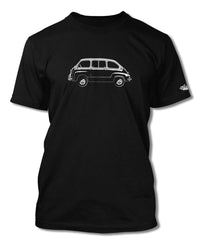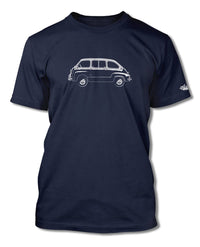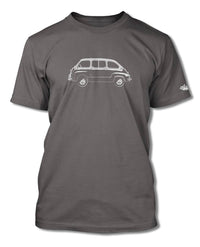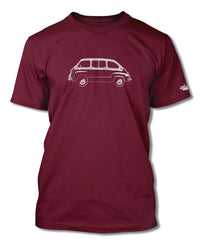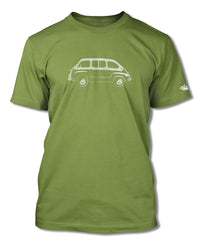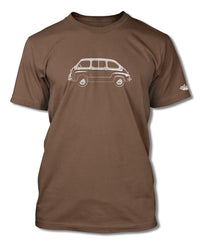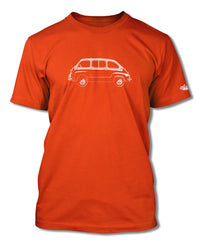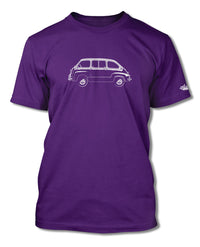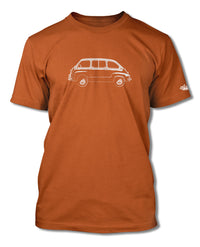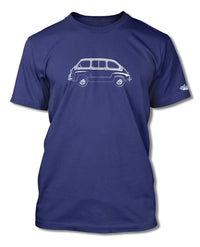 Fiat 600 Multipla T-Shirt - Men - Side View
Product Code:
FIAT_600_MULTI_SDLND_S_BLK
Fiat 600 Multipla T-Shirt for Men
The original Fiat 600 Multipla was based on the Fiat 600's drivetrain, that sat six people in a footprint just 19.7 in (50 cm) longer than the original Mini Cooper. The driver's compartment was moved forward over the front axle, effectively eliminating the boot but giving the body a very van-like "one-box" look. Behind the front seat the vehicle could be arranged with a flat floor area or a choice of one or two bench seats. Until the 1970s, it was widely used as a taxi in many parts of Italy. The Multipla's performance was not its selling force, with a top speed of about 55 mph (91.9 km/h) and 0-50 mph (80 km/h) in 43.0 seconds, but was good on fuel with a consumption of 32.0 mpg.
A game of subtle lights and shadows reveal the magnificent curves of the body of the Fiat 600 Multipla, a Legendary Italian Automobile. Detailed and harmonious, the artistic illustration has grabbed the essence of one of the most influential vehicle of the 20th century and is printed in front of the tee. Refine and stylish, it is a perfect wear for any occasion and to show your passion for a true Legend that lives forever: the Fiat 600 Multipla Short Sleeve T-Shirt.
The featured original artwork has been printed on a high-quality 6.0 oz 100% pre-shrunk American cotton t-shirt.
Seamless double-needle collar - sleeve bottom hems.
It is available in Black, Charcoal, Cherry Red, Forest Green, Indigo Blue, Kiwi, Maroon, Navy Blue, Nuts, Military Green, Orange, Purple, Rust, and Steel Blue
in sizes S - M - L - XL - 2XL - 3XL
*4 Extra Large (4XL), 5 Extra Large (5XL), and Extra Tall (XT) t-shirts are available through special order. Please contact us for colors' availability, pricing and estimated delivery.
*FIAT or any other marks are registered trademarks. Our products are not approved by any of these manufacturers and trademarks. We do not imply any association with these manufacturers and references are based on historical information in the public domain.