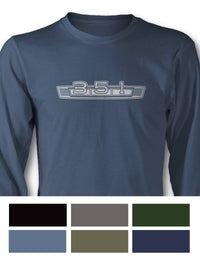 Ford 351 c.i. 1969 - 1977 Emblem T-Shirt - Long Sleeves - Emblem
Product Code:
351_CI_69_77_EMBLEM_LS_BLK_S
Ford 351 c.i. 1969 - 1977 Emblem Long Sleeve T-Shirt
The 351W (Windsor) is often confused with the 351 Cleveland, which is a different engine of identical displacement. The 351 cu in (5.8 L) Windsor featured a 1.3 in (32.5 mm) taller deck height than the 302, allowing a stroke of 3.5 in (88.9 mm). Although very much related in general configuration to the 289-302 and sharing the same bell housing, motor mounts, and other small parts, the 351W had a unique, tall-deck block, larger main bearing caps, thicker, longer connecting rods, and a distinct firing order. It had a unique head which optimized torque over high-rpm breathing, frequently replaced by enthusiasts with aftermarket heads providing better performance. Generally, the 1969 to 1974 blocks are considered to be far superior in strength than the later blocks, making these early units some of the strongest and most desirable in the entire SBF engine family. The block underwent some changes since its inception. In 1971, deck height was extended to lower the compression ratio. Introduced in 1969, it was initially rated at 250 hp (186 kW) with a two-barrel carburetor or 290 hp (216 kW) with a four-barrel. When Ford switched to net power ratings in 1972, it was rated at 153 to 161 hp (114 to 120 kW), although actual, installed horsepower was only fractionally lower than in 1971. Around 8.6 million 351W engines were manufactured between 1969 and 1996 at the Windsor Engine Plant Number One.
A beautiful and detailed one-color illustration of the Ford 351 c.i. 1969 - 1977 Emblem, an powerful symbol of a Legendary American muscle car, is printed on the t-shirt. Harmonious, accurate, and elegant, the emblem / badge reveals your passion for this iconic and most influential vehicle of the 20th century. Printed in white it contrasts magnificently with any chosen colors of the t-shirt. Refine and stylish, it is a perfect wear for any occasion and to show your passion. fThe Ford 351 c.i. 1969 - 1977 Emblem is a part of a true Legend that lives forever as you proudly wear it on your Long Sleeve T-Shirt.
The featured original artwork has been printed on a high-quality 6.0 oz 100% pre-shrunk American cotton t-shirt.
Seamless double-needle collar - sleeve bottom hems.
It is available in Black, Charcoal, Forest Green, Indigo Blue, Navy Blue & Military Green.
in sizes S - M - L - XL - 2XL - 3XL
This product is designed, printed & packed in the USA.
* Ford or any other marks are registered trademarks. Our products are not approved by any of these manufacturers and trademarks. We do not imply any association with these manufacturers and references are based on historical information in the public domain.