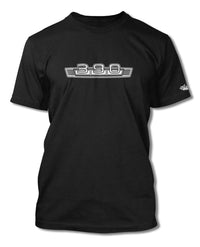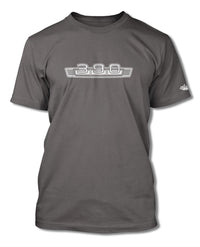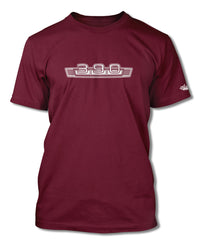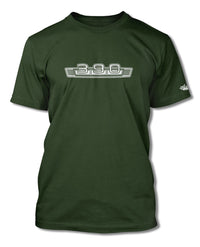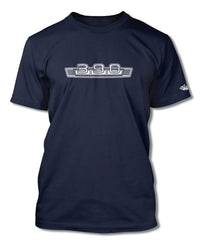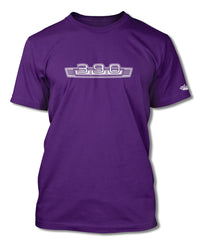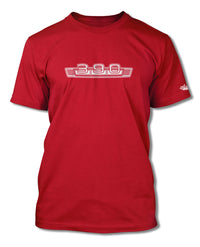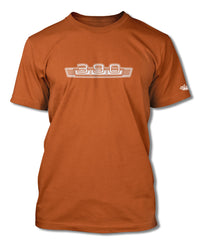 Ford 390 c.i. 1967 - 1969 Emblem T-Shirt - Men - Emblem
Product Code:
390_CI_67_69_EMBLEM_S_BLK
Ford 390 c.i. 1967 - 1969 Emblem T-Shirt for Men
The 390, with 390.04 cu in (6.4 L) true displacement, had a bore of 4.05 inches (102.87 mm) and stroke of 3.785 inches (96.14 mm). It was the most common FE engine in later applications, used in many Ford cars as the standard engine as well as in many trucks. It was a popular high-performance engine; although not as powerful as the 427 and 428 models, it provided good performance, particularly in lighter-weight vehicles. The 390 cu in 2v is rated at 265 bhp @ 4,100 rpm, while the 4v version was rated at 320 bhp @ 4,100 rpm in certain applications. Certain 1967 & 68 Mustangs had 390 4v engines rated at 335 horsepower, as did some Fairlane GTs and S code Mercury Cougars. When the 390 was first offered for 1961 model there was a 375 horsepower High Performance version that featured an aluminum 4bbl intake manifold, cast iron "header" style exhaust manifolds, 10.5:1 compression ratio and a solid lifter valve train. Many of these cars came with an aluminum 3x2bbl intake manifold in the trunk that was meant to be installed by the dealer and raised the engine's output to 401 horsepower.
A beautiful and detailed one-color illustration of the Ford 390 c.i. 1967 - 1969 Emblem, an powerful symbol of a Legendary American muscle car, is printed on the t-shirt. Harmonious, accurate, and elegant, the emblem / badge reveals your passion for this iconic and most influential vehicle of the 20th century. Printed in white it contrasts magnificently with any chosen colors of the t-shirt. Refine and stylish, it is a perfect wear for any occasion and to show your passion. The Ford 390 c.i. 1967 - 1969 Emblem is a part of a true Legend that lives forever as you proudly wear it on your Short Sleeve T-Shirt.
The featured original artwork has been printed on a high-quality 6.0 oz 100% pre-shrunk American cotton t-shirt.
Seamless double-needle collar - sleeve bottom hems.
It is available in Black, Charcoal, Cherry Red, Forest Green, Indigo Blue, Kiwi, Maroon, Navy Blue, Nuts, Military Green, Orange, Purple, Rust & Steel Blue
in sizes S - M - L - XL - 2XL - 3XL
*4 Extra Large (4XL), 5 Extra Large (5XL), and Extra Tall (XT) T-shirts are available through special order. Please contact us for colors' availability, pricing and estimated delivery.
This product is designed, printed & packed in the USA.
* Ford or any other marks are registered trademarks. Our products are not approved by any of these manufacturers and trademarks. We do not imply any association with these manufacturers and references are based on historical information in the public domain.