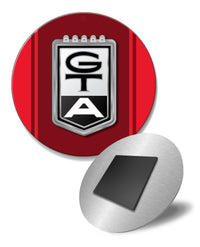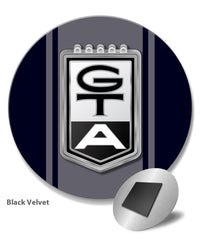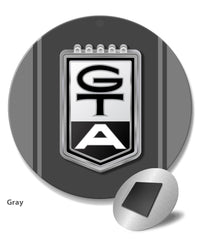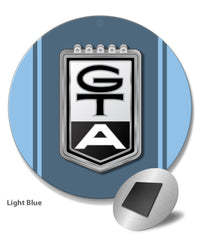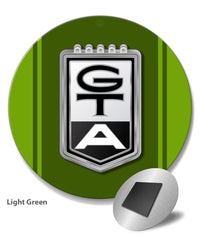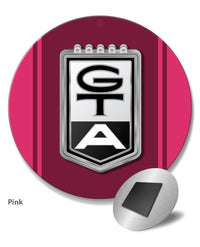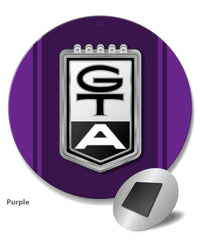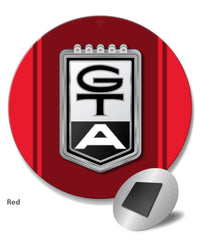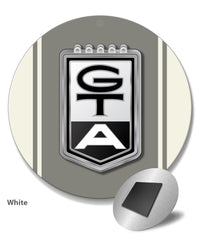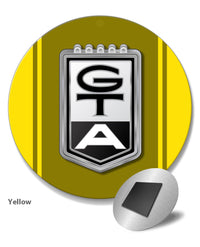 Ford GTA Fairlane 1966 - 1967 Emblem Round Fridge Magnet
Product Code:
FORD_GTA_EMBLEM_RD_MAG_BLACK
Ford GTA Fairlane 1966 - 1967 Emblem Novelty Round Fridge Magnet

If you wanted mid-sized, big-block performance back in 1966, a Fairlane GT was a best bet, as the 390 V-8 did not find its way into the Mustang until the following year. With the muscle car movement off to an alarming start in 1964, Ford fell behind the curve a little. It wasn't until the company's 1966 restyling of the midsize Fairlane lineup that they offered a GT model. (Strictly speaking, the GT was a manual-shift car; the GTA was the automatic-transmission version.) Beneath the crisp lines of the faux-scooped hood lay Ford's formidable S-code 390GT engine: 335hp, 11:1 compression, and a Holley four-barrel atop 390 snarling cubic inches. Standard transmission was a three-speed stick (GT), although a Toploader four-speed stick and a C6 automatic were both optional (GTA). It was directly comparable to the '66 Chevelle SS396, both in power and price (five cubes, five horses and about fifty bucks in base price separated them).
Perfect for all car enthusiasts that want to show their passion for their car. This Novelty Round Fridge Magnet shows the magnificent Ford GTA Fairlane 1966 - 1967 Emblem on a vibrant and colorful background with racing stripes. Choose between 14 different colors that contrast beautifully with the Ford GTA Fairlane 1966 - 1967 Emblem. This is the perfect way to show your passion for a true American muscle car. This 2.25" (57 mm) round magnet will look so cool on your fridge, tool box, metal shelving, or anywhere you want, as long as it's ferromagnetic. It is quality made of .045" Aluminum that will not fade or break and a1/2 inch square magnet in the back. For any car guy, this is the ideal gift to add style and show their passion, even in the middle of the kitchen.
Available in: Red - Purple - Light Green - Orange - Yellow - Pink - Bright Blue - Light Blue - Black Velvet - Dark Orange - Dark Green - Dark Blue - Gray - White
- Made of 0.045" (1.14 mm) Aluminum
- 2.25" (57.2 mm) diameter
- Durable aluminum material
- Water-resistant & easy to clean
- 1" backer magnet for adhesion
The image is permanently infused into the aluminum that will not crack, fade, chip, or peel (we do not use stickers or decals).
This product is made in the USA.
* Ford or any other marks are registered trademarks. Our products are not approved by any of these manufacturers and trademarks. We do not imply any association with these manufacturers and references are based on historical information in the public domain.