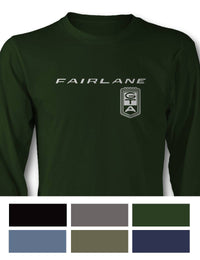 Ford GTA Fairlane 1966 - 1967 Emblem T-Shirt - Long Sleeves - Emblem
Product Code:
FORD_GTA_EMBLEM_LS_BLK_S
Ford GTA Fairlane 1966 - 1967 Emblem Long Sleeve T-Shirt
If you wanted mid-sized, big-block performance back in 1966, a Fairlane GT was a best bet, as the 390 V-8 did not find its way into the Mustang until the following year. With the muscle car movement off to an alarming start in 1964, Ford fell behind the curve a little. It wasn't until the company's 1966 restyling of the midsize Fairlane lineup that they offered a GT model. (Strictly speaking, the GT was a manual-shift car; the GTA was the automatic-transmission version.) Beneath the crisp lines of the faux-scooped hood lay Ford's formidable S-code 390GT engine: 335hp, 11:1 compression, and a Holley four-barrel atop 390 snarling cubic inches. Standard transmission was a three-speed stick (GT), although a Toploader four-speed stick and a C6 automatic were both optional (GTA). It was directly comparable to the '66 Chevelle SS396, both in power and price (five cubes, five horses and about fifty bucks in base price separated them).
A beautiful and detailed one-color illustration of the Ford GTA Fairlane 1966 - 1967 Emblem, an powerful symbol of a Legendary American muscle car, is printed on the t-shirt. Harmonious, accurate, and elegant, the emblem / badge reveals your passion for this iconic and most influential vehicle of the 20th century. Printed in white it contrasts magnificently with any chosen colors of the t-shirt. Refine and stylish, it is a perfect wear for any occasion and to show your passion. fThe Ford GTA Fairlane 1966 - 1967 Emblem is a part of a true Legend that lives forever as you proudly wear it on your Long Sleeve T-Shirt.
The featured original artwork has been printed on a high-quality 6.0 oz 100% pre-shrunk American cotton t-shirt.
Seamless double-needle collar - sleeve bottom hems.
It is available in Black, Charcoal, Forest Green, Indigo Blue, Navy Blue & Military Green.
in sizes S - M - L - XL - 2XL - 3XL
This product is designed, printed & packed in the USA.
* Ford or any other marks are registered trademarks. Our products are not approved by any of these manufacturers and trademarks. We do not imply any association with these manufacturers and references are based on historical information in the public domain.