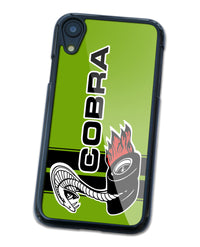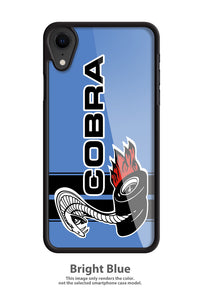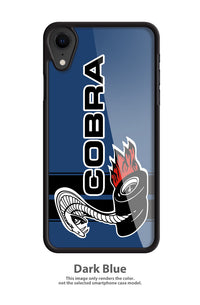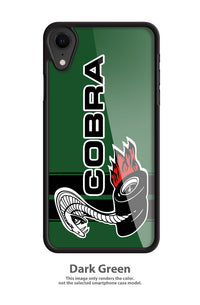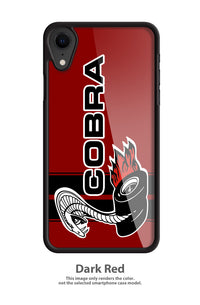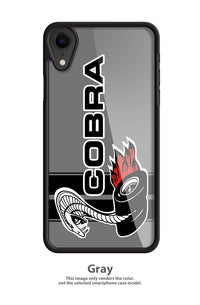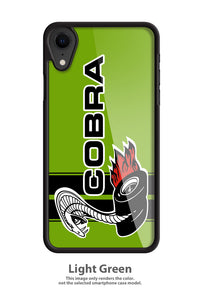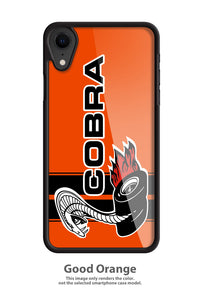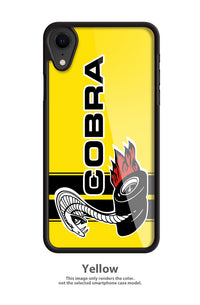 Ford Torino Cobra 1970 Emblem Smartphone Case - Emblem
Product Code:
1970_COBRA_EMBLEM_PHONE_BLACK
Ford Torino Cobra 1970 Emblem Cell Phone Case for Smartphone
By 1970, the new Torino was influenced by the "Coke bottle style". inspired by supersonic aircraft to produce this style. The 1970 model Torino was longer, wider, and lower. The roof starts high at the windshield, but slopes back into the Sportsroof rear treatment, which splits the difference between fastback and formal-roof with a single unbroken line that goes from the top of the rear window to the rear quarter caps, before they flip into a small aerodynamic trunk lip. Despite this, the 1970-'71 Torino Sportsroof is actually less aero-friendly than the car it replaced. Granted, engine and performance options had gotten half a decade hairier as well. The Torino Cobra, not to be confused with the Cobra Jet engine that it could optionally pack, or the lightweight two-seat Shelby Cobra roadster, was Ford's top-of-the-line Torino when the new body style debuted for 1970. Standard-issue was the 360hp Thunderjet 429 with two-bolt mains, 2.09/1.65 valves, 10.5:1 compression and a 600-CFM Autolite on top. That car carried over to '71 with most options intact, though the standard Cobra engine was downgraded to the 10.7:1 compression, 285hp 351 Cleveland four-barrel--probably to placate the insurance goons who made sure that insurance rates were as stiff as car payments. For roughly 10 percent of a Torino Cobra's cost (or $374, in 1971 money), you could opt into the 429CJ engine. Your cash earned you a powerplant sporting a 700-CFM GM Rochester carb, slightly smaller combustion chambers, 2.24/1.72 valves, a compression bump to 11.3:1 and stronger main-bearing webbing. The Torino was heavier for the year 1970 however it still held on with strong performance. Motor Trend tested a 1970 Torino Cobra that included a Ram Air 370 hp, 429 Cobra Jet, C-6 automatic, and 3.50:1 rear axle. After testing this model, they stated "The weight obviously helped traction, as it was fairly easy to accelerate away from a standing start with only a modicum of wheelspin."
Perfect for all car enthusiasts, this smartphone case shows the magnificent Ford Torino Cobra 1970 Emblem on a colorful background with racing stripes. The harmonious, accurate, and elegant illustration reveals the beauty of the emblem / badge of one of the most influential American muscle car of the 20th century. Choose between 12 different colors to customize your case to its fullest. Refine and stylish, the Ford Torino Cobra 1970 Emblem is the perfect way to show your passion any time you'll use your smartphone. The Cell Phone Cases are available for Apple iPhone and Samsung Galaxy Smartphones.
Available in:
Oil Black • Bright Blue • Dark Blue • Red • Dark Red • Dark Green • Good Orange • Light Blue • Gray • Purple • Light Green • Yellow
for:
Apple iPhone 4 • 4s • 5 • 5s • 5SE • 6 • 6s • 6 Plus • 6s Plus • 7 • 7 Plus • 8 • SE • 8 Plus • X • XS • XS Max • XR • 11 • 11 Pro • 11 Pro Max • 12 Mini • 12 • 12 Pro • 12 Pro Max • 13 Mini • 13 • 13 Pro • 13 Pro Max • 13 Mini • 14 • 14 Plus • 14 Pro • 14 Pro Max • 15 • 15 Plus • 15 Pro • 15 Pro Max
Samsung Galaxy S4 • S5 • S6 • S7 • S8 • S8+ • S9 • S9+ • S10 • S10e • S10+ • S20 • S20+ • S20 Ultra • S20 Lite • S20 FE • S21 • S21+ • S21 Ultra • S21 FE • S22 • S22+ • S22 Ultra • S23 • S23+ • S23 Ultra
The cover / case is made of Flexible Rubber or Hard Plastic (for the oldest models) and a Printed Aluminum Insert.
The image is permanently infused into the aluminum that will not crack, fade, chip, or peel (we do not use stickers or decals).
Easy access to all buttons and features of your phone, plug your charger cable, and headset without removing the case. (inductive charging is not supported)
The Smartphone is not included. You will receive 1 (one) Smartphone case / cover / skin only.
This Smartphone Case is brand new with tag. It is in stock, packed in a bubble bag, and ready to ship.
This product is designed, printed & packed in the USA.
* Ford or any other marks are registered trademarks. Our products are not approved by any of these manufacturers and trademarks. We do not imply any association with these manufacturers and references are based on historical information in the public domain.