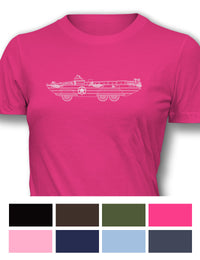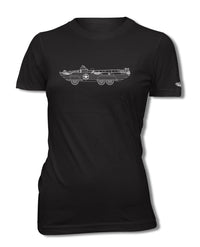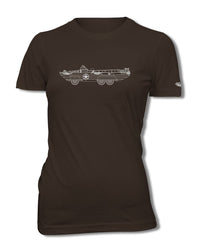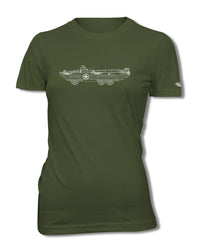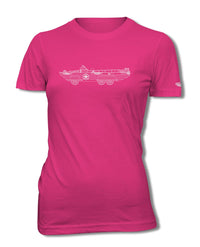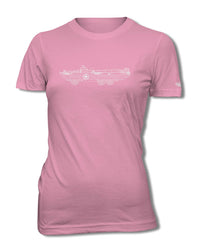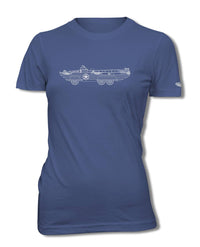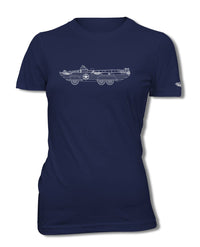 GMC DUKW "Duck" World War II 1942 - 1945 T-Shirt - Women - Side View
Product Code:
GMC_DUKW_WOMEN_S_BLK
GMC DUKW "Duck" World War II 1942 - 1945 T-Shirt for Women
The DUKW (colloquially known as Duck) was a six-wheel-drive amphibious modification of the ​2 1⁄2-ton CCKW trucks used by the U.S. military during World War II. Designed by a partnership under military auspices of Sparkman & Stephens and General Motors (GMC), the DUKW was used for the transportation of goods and troops over land and water. Excelling at approaching and crossing beaches in amphibious warfare attacks, it was intended only to last long enough to meet the demands of combat. The DUKW was supplied to the U.S. Army, U.S. Marine Corps and Allied forces, and 2,000 were supplied to Britain, 535 were acquired by Australian forces, and 586 were supplied to the Soviet Union, which built its own version after the war. DUKWs were initially sent to Guadalcanal in the Pacific Theater, but were used by an invasion force for the first time in the European theater, during the Sicilian invasion, Operation Husky, in the Mediterranean. They were used on the D-Day beaches of Normandy and in the Battle of the Scheldt, Operation Veritable, and Operation Plunder. In the Pacific, USMC DUKW's were used to cross the coral reefs of islands such as Saipan and Guam and the tires were not affected by the coral. Surviving DUKWs have since found popularity as tourist craft in marine environments.
A game of subtle lights and shadows reveal the magnificent curves of the body of the GMC DUKW "Duck" World War II 1942 - 1945, a Legendary American Automobile. Detailed and harmonious, the artistic illustration has grabbed the essence of one of the most influential vehicle of the 20th century and is printed in front of the tee. Refine and stylish, it is a perfect wear for any occasion and to show your passion for a true Legend that lives forever: the GMC DUKW "Duck" World War II 1942 - 1945 Women Short Sleeves T-Shirt.
The featured original artwork has been printed on a high quality 4.5 oz 100% pre-shrunk combed ringspun American cotton t-shirt. Its soft feel and fashion fit makes it so comfortable to wear.
Features: Seamless collarette, Taped shoulder-to-shoulder, Double-needle stitching on sleeves and bottom hem, Side seamed, Classic semi-contoured silhouette, Tear off label
It is available in Black, Chocolate, City Green, Hot Pink, Light Blue, Light Pink, Navy & Steel Blue in size S - M - L - XL - 2XL
*GMC or any other marks are registered trademarks. Our products are not approved by any of these manufacturers and trademarks. We do not imply any association with these manufacturers and references are based on historical information in the public domain.