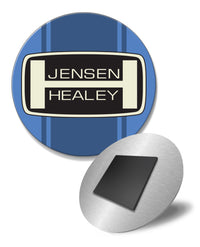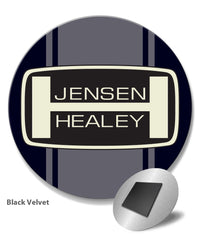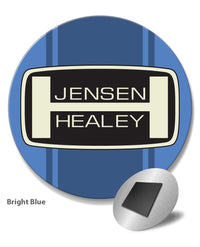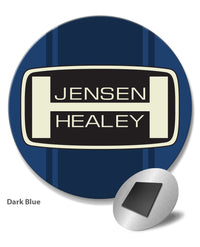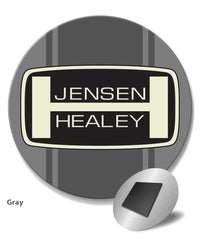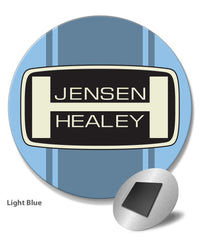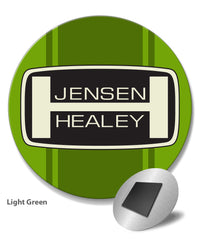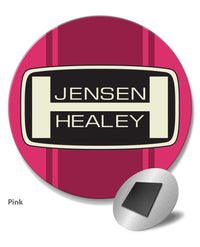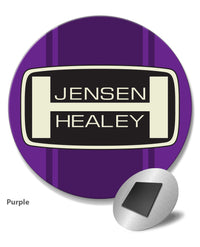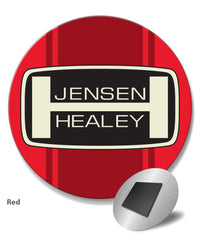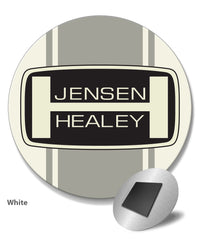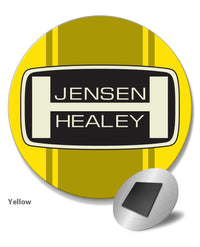 Jensen Healey Emblem Round Fridge Magnet
Product Code:
JENSEN_HEALEY_EMBLEM_RD_MAG_BLK
Vintage Jensen Healey Emblem Novelty Round Fridge Magnet

Jensen Motors Ltd was a British manufacturer of sports cars established in 1934 as a small specialist coachbuilding operation run by brothers Richard and Alan Jensen. They were commissioned by famous actor Clark Gable to design & build a car. The resultant car won them much acclaim and stimulated huge interest in their work. After WWII they resume their work, but few cars were produced since raw materials were still scarce. In the 50s Jensen starts producing Sport Cars as their masterpiece, the 541, which used the then-revolutionary material of fiberglass for its bodywork. For its replacement, Jensen launched the Interceptor in 1966. The Interceptor was offered in fastback, convertible and (rare) coupé versions. In 1970 Donald Healey was brought in and he was appointed chairman. The new Jensen-Healey was launched in March 1972. By 1976, a total of 10,503 Jensen-Healey were produced. By 1975, the company's future was under threat, and Jensen Motors ceased trading in May 1976.
Perfect for all car enthusiasts that want to show their passion for their Jensen Healey. This 2.25" (57 mm) round magnet will look so cool on your fridge, tool box, metal shelving, or anywhere you want, as long as it's ferromagnetic. It is quality made of .045" Aluminum that will not fade or break and a1/2 inch square magnet in the back. Make room on the fridge, you deserve a special decoration spot in the middle of the other fridge magnets. Stick it to anything you'll like on your desk, car, workbench, toolbox, or man cave board. Choose between 14 different colors that contrast beautifully with the vintage Jensen Healey emblem. For any car guy, this is the ideal gift to add style and show their passion, even in the middle of the kitchen.
Available in: Red - Purple - Light Green - Orange - Yellow - Pink - Bright Blue - Light Blue - Black Velvet - Dark Orange - Dark Green - Dark Blue - Gray - White
- Made of 0.045" (1.14 mm) Aluminum
- 2.25" (57.2 mm) diameter
- Durable aluminum material
- Water-resistant & easy to clean
- 1" backer magnet for adhesion
Made in USA
* Jensen Healey or any other marks are registered trademarks. Our products are not approved by any of these manufacturers and trademarks. We do not imply any association with these manufacturers and references are based on historical information in the public domain.