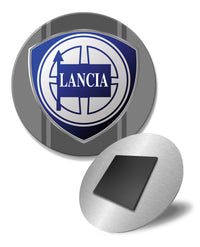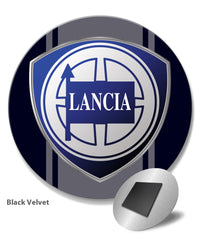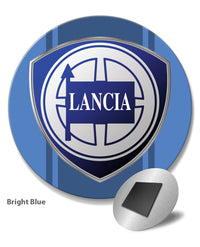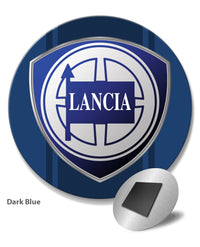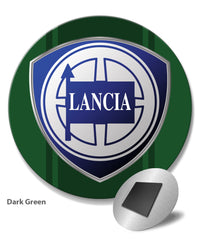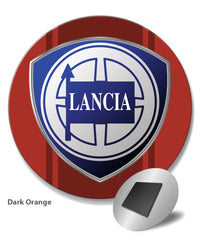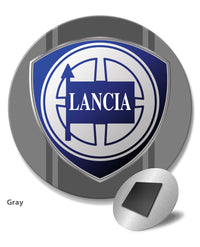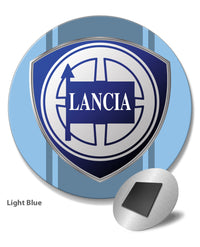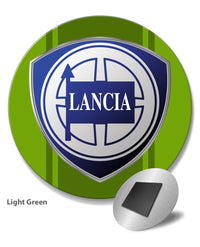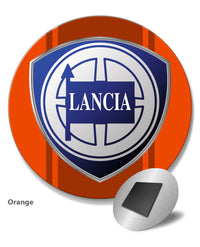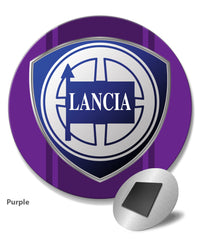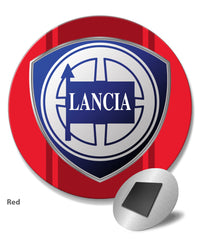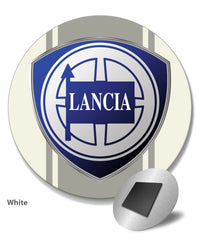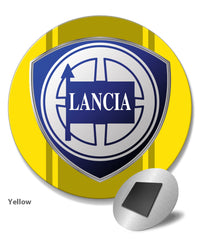 Lancia Emblem Round Fridge Magnet
Product Code:
LANCIA_EMBLEM_RD_MAG_BLK
Vintage Lancia Emblem Novelty Round Fridge Magnet

Founded in 1906 in Turin by Fiat racing drivers Vincenzo Lancia and his friend Claudio Fogolin as Lancia & C. The first Lancia was produced in 1907. Lancia is famous for many automotive innovations as the first production car to feature a complete electrical system, the first 5 speed gearbox, v6 engine and more. Lancia has been very successful in motorsport over the years, and mostly in the arena of rallying. In the WRC, they remain the most statistically successful, winning constructors' titles with the Stratos in 1974, 1975 and 1976 and later with the 037 and the Delta. All this gave Lancia a total of 11 Championships over the years and enter the Legend of Sports Cars.
Perfect for all car enthusiasts that want to show their passion for their Lancia. This 2.25" (57 mm) round magnet will look so cool on your fridge, tool box, metal shelving, or anywhere you want, as long as it's ferromagnetic. It is quality made of .045" Aluminum that will not fade or break and a1/2 inch square magnet in the back. Make room on the fridge, you deserve a special decoration spot in the middle of the other fridge magnets. Stick it to anything you'll like on your desk, car, workbench, toolbox, or man cave board. Choose between 14 different colors that contrast beautifully with the vintage Lancia emblem. For any car guy, this is the ideal gift to add style and show their passion, even in the middle of the kitchen.
Available in: Red - Purple - Light Green - Orange - Yellow - Pink - Bright Blue - Light Blue - Black Velvet - Dark Orange - Dark Green - Dark Blue - Gray - White
- Made of 0.045" (1.14 mm) Aluminum
- 2.25" (57.2 mm) diameter
- Durable aluminum material
- Water-resistant & easy to clean
- 1" backer magnet for adhesion
Made in USA
* Lancia or any other marks are registered trademarks. Our products are not approved by any of these manufacturers and trademarks. We do not imply any association with these manufacturers and references are based on historical information in the public domain.