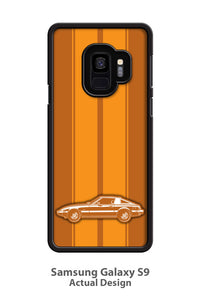 Mazda RX-7 S2 First generation 1978 - 1985 Smartphone Case - Racing Stripes
Product Code:
MAZDA_RX7_S2_STRP_BRITGREEN
Mazda RX-7 S2 First generation 1978 - 1985 Cell Phone Case for Smartphone
The Mazda RX-7 received a styling update for 1986 for its Second Generation. It was now a 2+2 hatchback with an 'occasional' rear seats. Power was still from the Wankel rotary engine producing nearly 150 horsepower and with the optional turbocharger installed, that figure rose to 182 horsepower. Gearbox options were either the standard five-speed manual or four-speed automatic. Still known as the Mazda Savanna RX-7 in Japan, featured a complete restyling which was reminiscent of the Porsche 924 and 944. Mazda's stylists, led by Chief Project Engineer Akio Uchiyama focused on the Porsche 924 for their inspiration in designing the Mazda because the new car was being designed primarily for the American market, where the majority of first-generation of the RX-7 models had been sold. This strategy was chosen after Uchiyama and others on the design team spent time in the United States studying owners of the earlier RX-7s and other sports cars popular in the American market. The Porsche 944 was selling particularly well at the time and provided clues as to what sports-car enthusiasts might find compelling in future RX-7 styling and equipment.
A game of subtle lights and shadows reveal the magnificent curves of the body of this Legendary Mazda RX-7 S2 First generation 1978 - 1985 automobile: The Mazda RX-7 one of the most influential vehicle of the 20th century. A true Car Legend that lives forever: the Mazda RX-7 S2 First generation 1978 - 1985 Cell Phone Case for Apple iPhone and Samsung Galaxy Smartphones!
Available in:
Silver Grey • British Green • LeMans Blue • Italian Red • Military Green • Good Orange • Oil Black • Racing Blue
for:Apple iPhone 4 • 4s • 5 • 5s • 5SE • 6 • 6s • 6 Plus • 6s Plus • 7 • 7 Plus • 8 • SE • 8 Plus • X • XS • XS Max • XR • 11 • 11 Pro • 11 Pro Max • 12 Mini • 12 • 12 Pro • 12 Pro Max • 13 Mini • 13 • 13 Pro • 13 Pro Max • 13 Mini • 14 • 14 Plus • 14 Pro • 14 Pro Max • 15 • 15 Plus • 15 Pro • 15 Pro Max
Samsung Galaxy S4 • S5 • S6 • S7 • S8 • S8+ • S9 • S9+ • S10 • S10e • S10+ • S20 • S20+ • S20 Ultra • S20 Lite • S20 FE • S21 • S21+ • S21 Ultra • S21 FE • S22 • S22+ • S22 Ultra • S23 • S23+ • S23 Ultra


The cover / case is made of Flexible Rubber or Hard Plastic (for the oldest models) and a Printed Aluminum Insert.
The image is permanently infused into the aluminum that will not crack, fade, chip, or peel (we do not use stickers or decals).
Easy access to all buttons and features of your phone, plug your charger cable, and headset without removing the case.
The Smartphone is not included. You will receive 1 (one) Smartphone case / cover / skin only.
This Smartphone Case is brand new with tag. It is in stock, packed in bubble bag and ready to ship.
This product was designed, printed & packed in the USA.

*MAZDA or any other marks are registered trademarks. Our products are not approved by any of these manufacturers and trademarks. We do not imply any association with these manufacturers and references are based on historical information in the public domain.