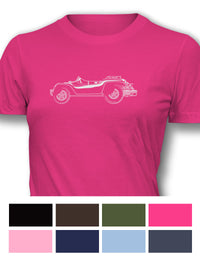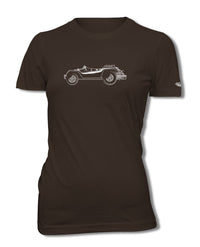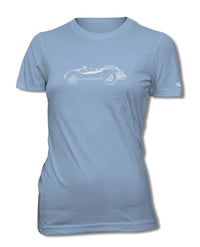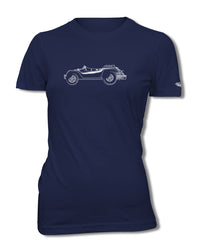 1968 Meyers Manx Steve McQueen Dune Buggy 1968 T-Shirt - Women - Side View
Product Code:
MANX_MCQUEEN_WOMEN_S_BLK
1968 Meyers Manx Steve McQueen Dune Buggy 1968 T-Shirt for Women
The Thomas Crown Affair is a 1968 American film starring Steve McQueen and Faye Dunaway. One memorable scene, is when the film's bank-robbing millionaire hero/antihero (Thomas Crown, as played by McQueen) thrills insurance investigator Vicki Anderson (played by Faye Dunaway) in a dune buggy. A dune buggy wasn't even in the original script for the beach driving scenes. The producers originally wanted to use a Jeep, but McQueen intervened, wanting something that more accurately portrayed Crown's high-risk, big-thrill lifestyle. Familiar with the Meyers Manx, McQueen enlisted the help of fellow off-road racer Pete Condos in building a unique version exclusively for the dune driving scenes, shot at Crane Beach in Ipswich, Massachusetts. McQueen wanted to power the buggy with a Porsche flat-six, but when that request was shot down for budgetary reasons, he compromised with a tuned version of the Corvair flat-six instead. The buggy's construction was handled by Con-Ferr Manufacturing, Condos's shop in Burbank, California.
As delivered, Queen Manx featured reupholstered seats from a Datsun roadster, covered in quilted vinyl to match the rest of the custom interior. A wraparound windshield replaced the upright Manx original, and the buggy featured side sills that stretched roughly to the centerline of the hubs. Wheels were custom-painted American Racing five-spokes with fake knock-off caps, and the extra-wide Firestone tires. The buggy's most distinctive feature may have been the headlamps, concealed in tunnels cut into the front bodywork.
A game of subtle lights and shadows reveal the magnificent curves of the body of the Meyers Manx Steve McQueen Dune Buggy 1968, a Legendary American Automobile. Detailed and harmonious, the artistic illustration has grabbed the essence of one of the most influential vehicle of the 20th century and is printed in front of the tee. Refine and stylish, it is a perfect wear for any occasion and to show your passion for a true Legend that lives forever: the Meyers Manx Steve McQueen Dune Buggy 1968 Women Short Sleeves T-Shirt.
The featured original artwork has been printed on a high quality 4.5 oz 100% pre-shrunk combed ringspun American cotton t-shirt. Its soft feel and fashion fit makes it so comfortable to wear.
Features: Seamless collarette, Taped shoulder-to-shoulder, Double-needle stitching on sleeves and bottom hem, Side seamed, Classic semi-contoured silhouette, Tear off label
It is available in Black, Chocolate, City Green, Hot Pink, Light Blue, Light Pink, Navy & Steel Blue in size S - M - L - XL - 2XL

*MEYERS or any other marks are registered trademarks. Our products are not approved by any of these manufacturers and trademarks. We do not imply any association with these manufacturers and references are based on historical information in the public domain.