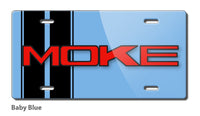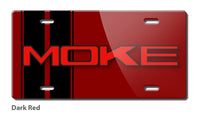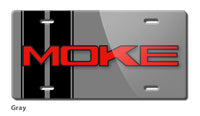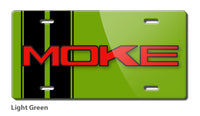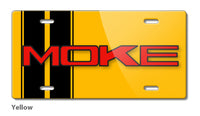 Mini Moke Emblem Novelty License Plate
Product Code:
MINI_MOKE_EMBLEM_LP_BABY
Vintage Mini MOKE Emblem License Plate
The initial idea to his car was to create a light multi-purpose vehicle for the British military based on the Austin/Morris Mini, but soon it became clear that it would not meet the demands for an off-road purpose. British Motor Corporation decided to turn the project into a kind of a motorized buckboard for private - and fun - missions. About one year later the beach-buggy like car appeared on the market as the Mini Moke. It immediately became a cult transportation all over the world.
Perfect for all car enthusiasts that want to show their passion for car by adding style, showing your pride, or enhancing the appearance of your Mini Moke with this novelty license plate. Choose between 16 different colors to customize your vehicle to the fullest. This vintage Mini Moke Emblem Novelty License Plate can also be use to decorate the walls in your garage, office, workshop, man cave, or any other room and space.
Available in: Baby Blue - Black - British Green - Cattail Brown - Dark Red - Good Orange - Gray - Hot Pink - Italian Red - LeMans Blue - Light Green - Military Green - Racing Blue - Steel Blue - White - Yellow
Made of .032 Aluminum
6" x 12" (153 x 306 mm) standard automotive license plate size
4 holes for easy mounting
Water-resistant
UV protected for outdoor use and durability
Made in USA
* Mini Moke or any other marks are registered trademarks. Our products are not approved by any of these manufMINI_MOKEturers and trademarks. We do not imply any association with these manufMINI_MOKEturers and references are based on historical information in the public domain.