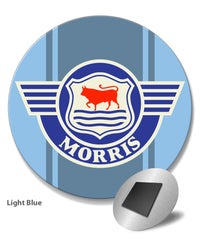 Morris Emblem Round Fridge Magnet
Product Code:
MORRIS_EMBLEM_RD_MAG_BLK
Vintage Morris Emblem Novelty Round Fridge Magnet

Considered to be the 'World's Supreme Small Car', by the motoring press at the launch, the demand of the Morris Minor outstripped supply of the company. Originally called the Mosquito, the Morris Minor was introduced on September 20th, 1948. Alec Issigonis' concept was to combine the luxury and convenience of a good motor car at a price affordable by the working classes. The 2-door Saloon was as its name say an elegant little two door coupe. The first British car to sell over 1,000,000 units. In 1952 an estate version was introduced. Known as the Traveller (a Morris naming tradition for estates, also seen on the Mini). The Traveller featured an external structural ash (wood) frame for the rear bodywork, with two side-hinged rear doors. Then in 1956 the four-seater convertible was offered to the public. Also known, as the Tourer, it was a very enjoyable vehicle with excellent fuel economy and appropriate performance. The Austin Morris Minor was produced until 1971 and has become a very collectible vehicle.
Perfect for all car enthusiasts that want to show their passion for their Morris. This 2.25" (57 mm) round magnet will look so cool on your fridge, tool box, metal shelving, or anywhere you want, as long as it's ferromagnetic. It is quality made of .045" Aluminum that will not fade or break and a1/2 inch square magnet in the back. Make room on the fridge, you deserve a special decoration spot in the middle of the other fridge magnets. Stick it to anything you'll like on your desk, car, workbench, toolbox, or man cave board. Choose between 14 different colors that contrast beautifully with the vintage Morris emblem. For any car guy, this is the ideal gift to add style and show their passion, even in the middle of the kitchen.
Available in: Red - Purple - Light Green - Orange - Yellow - Pink - Bright Blue - Light Blue - Black Velvet - Dark Orange - Dark Green - Dark Blue - Gray - White
- Made of 0.045" (1.14 mm) Aluminum
- 2.25" (57.2 mm) diameter
- Durable aluminum material
- Water-resistant & easy to clean
- 1" backer magnet for adhesion
Made in USA
* Morris or any other marks are registered trademarks. Our products are not approved by any of these manufacturers and trademarks. We do not imply any association with these manufacturers and references are based on historical information in the public domain.