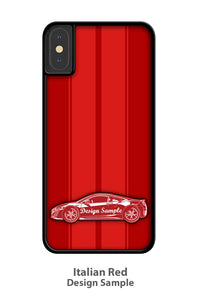 Peugeot 203 1948 - 1960 Pickup Smartphone Case - Racing Stripes
Product Code:
PEUG_203_PU_STRP_BRITGREEN
Peugeot 203 Pickup Camionnette 1948 - 1960 Cell Phone Case for Smartphone
The Peugeot 203 was a family car which was produced by Peugeot between 1948 and 1960. The car was exhibited at the Paris Motor Show in 1947, but by then had already been under development for more than five years. The 203 was Peugeot's first new model launched after WWII. During its twelve-year production run nearly 700,000 203s of all variants rolled off the assembly line. Between 1949 and 1955, the 203 was the only model produced by Peugeot. The 203 was the first monocoque bodied production Peugeot. The car was eye catching, modern and bore a marked resemblance to the American Chevrolet Fleetline fastback, although its wind cheating profile also reflected the streamlining trend apparent in some of Europe's more modern designs. The 4-door saloon was the major seller, but from 1950 a commodious 4-door version (Commerciale) and a 6-seat (Familiale), with three rows of seats, were also offered. By taking the trouble to extend the wheelbase for the estate and family versions, the company set a pattern which they would follow with several succeeding generations of Peugeot. Along with improvements to the existing cars, Peugeot introduced a 2-door 203 coupé at the end of 1952, although this was not as successful as hoped and quietly disappears from the brochures a year later. There were several low volume cabriolet and coupé conversions produced by outside specialists in collaboration with Peugeot available during the 203's production run, though removing the roof from an early monocoque design necessitated extensive body strengthening which added to the car's weight and reduced the performance. The 203 was released on the Australian market in 1949. The 203 was also.
A game of subtle lights and shadows reveal the magnificent curves of the body of this Legendary Peugeot 203 Pickup Camionnette 1948 - 1960 automobile: The Peugeot 203 one of the most influential vehicle of the 20th century. A true Car Legend that lives forever: the Peugeot 203 Pickup Camionnette 1948 - 1960 Cell Phone Case for Apple iPhone and Samsung Galaxy Smartphones!
Available in:
Silver Grey • British Green • LeMans Blue • Italian Red • Military Green • Good Orange • Oil Black • Racing Blue
for:Apple iPhone 4 • 4s • 5 • 5s • 5SE • 6 • 6s • 6 Plus • 6s Plus • 7 • 7 Plus • 8 • SE • 8 Plus • X • XS • XS Max • XR • 11 • 11 Pro • 11 Pro Max • 12 Mini • 12 • 12 Pro • 12 Pro Max • 13 Mini • 13 • 13 Pro • 13 Pro Max • 13 Mini • 14 • 14 Plus • 14 Pro • 14 Pro Max • 15 • 15 Plus • 15 Pro • 15 Pro Max
Samsung Galaxy S4 • S5 • S6 • S7 • S8 • S8+ • S9 • S9+ • S10 • S10e • S10+ • S20 • S20+ • S20 Ultra • S20 Lite • S20 FE • S21 • S21+ • S21 Ultra • S21 FE • S22 • S22+ • S22 Ultra • S23 • S23+ • S23 Ultra


The cover / case is made of Flexible Rubber or Hard Plastic (for the oldest models) and a Printed Aluminum Insert.
The image is permanently infused into the aluminum that will not crack, fade, chip, or peel (we do not use stickers or decals).
Easy access to all buttons and features of your phone, plug your charger cable, and headset without removing the case.
The Smartphone is not included. You will receive 1 (one) Smartphone case / cover / skin only.
This Smartphone Case is brand new with tag. It is in stock, packed in bubble bag and ready to ship.
This product was designed, printed & packed in the USA.

*PEUGEOT or any other marks are registered trademarks. Our products are not approved by any of these manufacturers and trademarks. We do not imply any association with these manufacturers and references are based on historical information in the public domain.