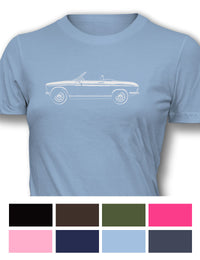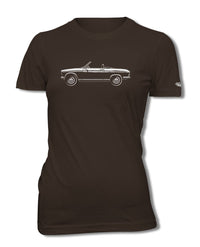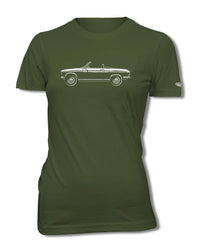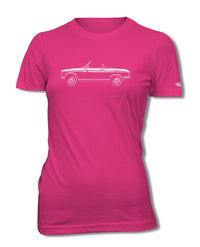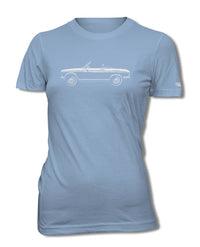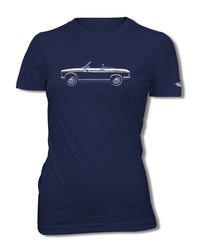 Peugeot 204 Convertible 1966 - 1975 T-Shirt - Women - Side View
Product Code:
PEUG_204_CV_WOMEN_S_BLK
Peugeot 204 Convertible 1966 - 1975 T-Shirt for Women
The Peugeot 204 was a small family car produced by the French manufacturer Peugeot between 1965 and 1976. The 204, known in development as Project D12, was available in many body styles including a sedan/saloon/berline, convertible/cabriolet, hatchback/coupe, estate/wagon, and a van. It was launched in Paris, France, on 23 April 1965 and became the best-selling car in France from 1969 to 1971. 204 engines were transversely mounted which increased available passenger space within a given wheelbase: the 204 was the first production car to feature this format which later would become normal for small and mid-sized front-wheel-drive European passenger cars. The car proved to have good handling, decent performance, and excellent fuel economy. 1966 saw the arrival of a two-door cabriolet and a three-door hatchback. In France it would be known as a "Décapotable." It is a car that was designed by famed Italian design firm Pininfarina,Both employed a shortened chassis and were priced only 20% above the level of the (admittedly not particularly aggressively priced) saloon. It was a 2-seater, but it is a very spacious 2-seater. The internal dimensions of the car were very impressive, equipped with large seats that were at the time considered to be one of the most comfortable production seats of that era. The Peugeot 204 Convertible was never imported into the US, so finding one of these on American roads today is a bit of a rarity. This was not a high-performance sports car, but it is designed for leisurely top-down cruising when the weather is fine. It was something a bit different to your average European convertible of the time, and would certainly start a few conversations at the next Coffee & Cars. When the 204 production ended in 1976, it had no direct replacement and was filled in by the 304.
A game of subtle lights and shadows reveal the magnificent curves of the body of the Peugeot 204 Convertible 1966 - 1975, a Legendary French Automobile. Detailed and harmonious, the artistic illustration has grabbed the essence of one of the most influential vehicle of the 20th century and is printed in front of the tee. Refine and stylish, it is a perfect wear for any occasion and to show your passion for a true Legend that lives forever: the Peugeot 204 Convertible 1966 - 1975 Women Short Sleeves T-Shirt.
The featured original artwork has been printed on a high quality 4.5 oz 100% pre-shrunk combed ringspun American cotton t-shirt. Its soft feel and fashion fit makes it so comfortable to wear.
Features: Seamless collarette, Taped shoulder-to-shoulder, Double-needle stitching on sleeves and bottom hem, Side seamed, Classic semi-contoured silhouette, Tear off label
It is available in Black, Chocolate, City Green, Hot Pink, Light Blue, Light Pink, Navy & Steel Blue
in size S - M - L - XL - 2XL
* PEUGEOT or any other marks are registered trademarks. Our products are not approved by any of these manufacturers and trademarks. We do not imply any association with these manufacturers and references are based on historical information in the public domain.