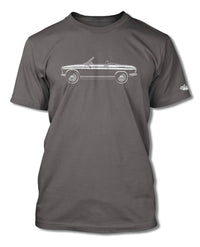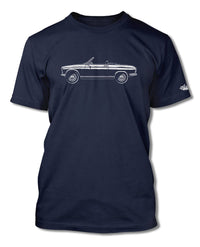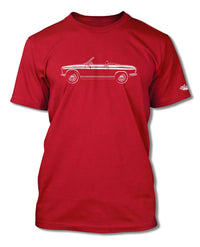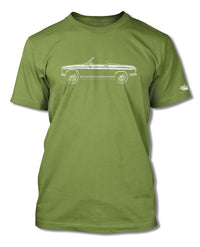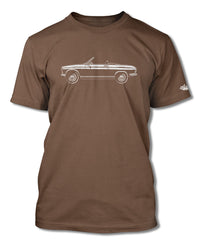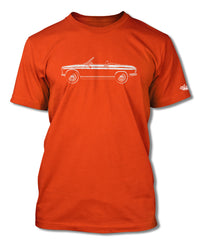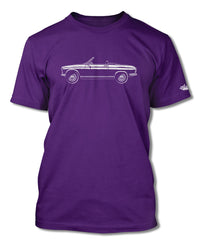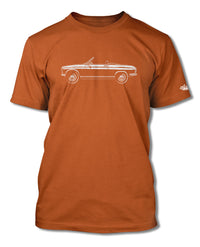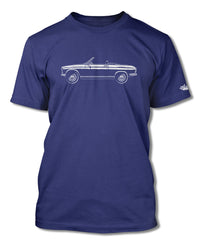 Peugeot 304 Convertible 1970 - 1975 T-Shirt - Men - Side View
Product Code:
PEUG_304_CV_TEE_S_BLK
Peugeot 304 Convertible 1970 - 1975 T-Shirt for Men
The Peugeot 304 was a small family car produced by the French manufacturer Peugeot between 1969 and 1979. The 304 was introduced to the public at the Paris Motor Show in September 1969. Peugeot, which had always been a financially prudent company, saw a gap in the midsize car market in France, Italy and the rest of Western Europe. By using the smaller 204's midsection, development costs were minimized resulting in a higher profit margin because of the higher pricing structure in the larger, better equipped market. The 304 was a success for Peugeot and was noted for several advanced features under its Pininfarina styled exterior. With its independent suspended front-wheel-drive drivetrain and disc brakes, it rode and handled better than most of its contemporaries. The convertible was based on the existing 204 but borrowed front end styling from the 504. The saloon and coupe were rather dull looking cars, but slicing the top off and you have a very dashing looking cabriolet. Just under 19,000 Cabriolets were produced from 1970 until 1975. There was one significant 'revamp' in 1972, when the 'S' version came along. Styling tweaks included a new dash with rev counter, new front grille and badge, new wheels and headrests on the seats. The 'S' was also equipped with a new twin carb 75bhp 1.3 engine. It stood out thanks to a sleek two-door body, a long deck lid reminiscent of sports cars especially with the top down.
A game of subtle lights and shadows reveal the magnificent curves of the body of the Peugeot 304 Convertible 1970 - 1975, a Legendary French Automobile. Detailed and harmonious, the artistic illustration has grabbed the essence of one of the most influential vehicle of the 20th century and is printed in front of the tee. Refine and stylish, it is a perfect wear for any occasion and to show your passion for a true Legend that lives forever: the Peugeot 304 Convertible 1970 - 1975 Short Sleeve T-Shirt.
The featured original artwork has been printed on a high-quality 6.0 oz 100% pre-shrunk American cotton t-shirt.
Seamless double-needle collar - sleeve bottom hems.
It is available in Black, Charcoal, Cherry Red, Forest Green, Indigo Blue, Kiwi, Maroon, Navy Blue, Nuts, Military Green, Orange, Purple, Rust, and Steel Blue
in sizes S - M - L - XL - 2XL - 3XL
*4 Extra Large (4XL), 5 Extra Large (5XL), and Extra Tall (XT) t-shirts are available through special order. Please contact us for colors' availability, pricing and estimated delivery.
*PEUGEOT or any other marks are registered trademarks. Our products are not approved by any of these manufacturers and trademarks. We do not imply any association with these manufacturers and references are based on historical information in the public domain.