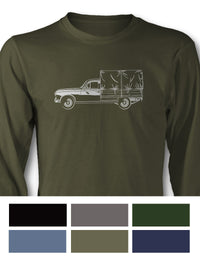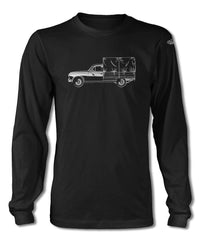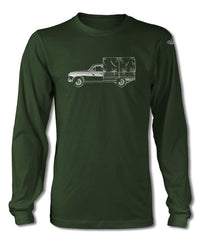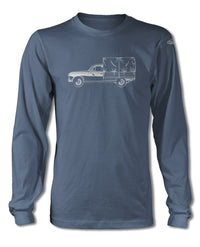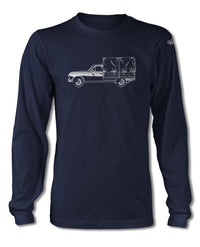 Peugeot 403 1955 - 1966 Pickup T-Shirt - Long Sleeves - Side View
Product Code:
PEUG_403_PU_LS_BLK_S
Peugeot 403 Pickup Camionnette 1955 - 1966 Long Sleeve T-Shirt
The Peugeot 403 was a car produced by Peugeot between May 1955 and October 1966. A total of 1,214,121 of all types, including commercial models, were produced, making it the first Peugeot to exceed the one million mark. The 403 made its debut in April 1955 at the Trocadéro Palace in Paris. For several months before it was launched numerous 403s, their badges removed, were circulating on the local roads near the factory, becoming so familiar that the locals no longer noticed them, but still attracting from Paris motoring journalists and photographers to a town that usually was of little interest to the national media. When it was first shown, and until after 1958, the leading edge of car's nose carried an angular chrome lion bonnet ornament. That was removed for 1959, due to safety concerns, and the logo was incorporated into a shield-shaped grill emblem. Styled by Pininfarina, the 403 featured ponton, three-box styling incorporating, except on the most basic models, an opening roof panel. The collaboration with Pininfarina marked the start of a partnership which would see the Italian designer producing designs for Peugeot, including those many mainstream volume models, for more than fifty years. Regarding the 403 itself there were persistent rumours that the design was one originally intended for a replacement Fiat 1900 which had been rejected. The wheelbase was lengthened by 240 mm (9.4 in) for the five door Peugeot 403 "Familiale" and "Commerciale" estate versions. The Familiale provided a third row of seats and was described as a 7/8 seater while the Commerciale offered a more conventional seat configuration for an estate car. Reliability was considered excellent for the time. A two-door cabriolet version of the car was also offered, with a luxurious interior featuring high quality leather upholstery. In 1958 the 403 cabriolet cost 80% more than the entry level "berline grand luxe" 403 sedan, and presumably for this reason the convertible 403 was produced and sold only in very modest numbers.
A game of subtle lights and shadows reveal the magnificent curves of the body of the Peugeot 403 Pickup Camionnette 1955 - 1966, a Legendary French Automobile. Detailed and harmonious, the artistic illustration has grabbed the essence of one of the most influential vehicle of the 20th century and is printed in front of the tee. Refine and stylish, it is a perfect wear for any occasion and to show your passion for a true Legend that lives forever: the Peugeot 403 Pickup Camionnette 1955 - 1966 Long Sleeve T-Shirt.
The featured original artwork has been printed on a high quality 6.0 oz 100% pre-shrunk American cotton t-shirt.
Seamless double needle collar - sleeve & bottom hems.
It is available in Black, Charcoal, Indigo, Forest Green, Navy & Military Green in size S - M - L - XL - 2XL - 3XL

*PEUGEOT or any other marks are registered trademarks. Our products are not approved by any of these manufacturers and trademarks. We do not imply any association with these manufacturers and references are based on historical information in the public domain.