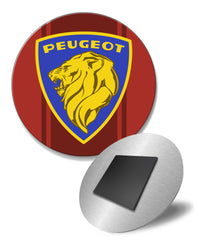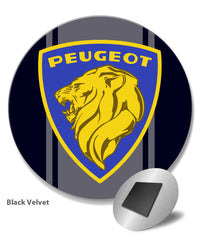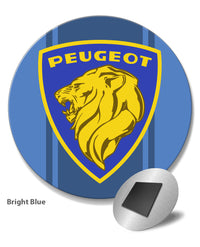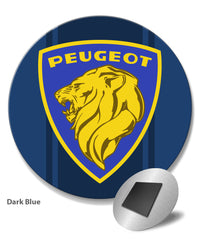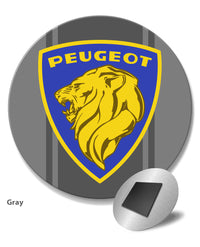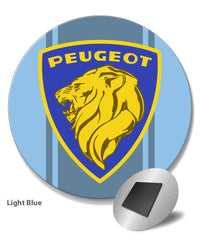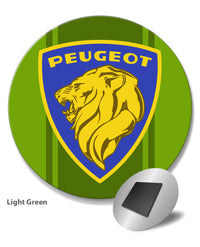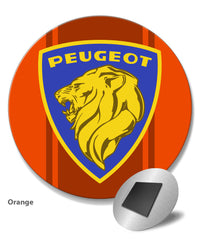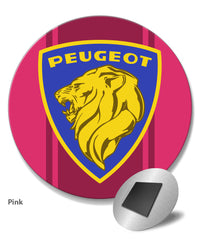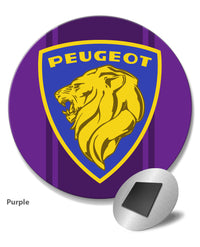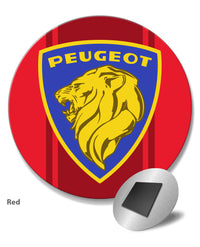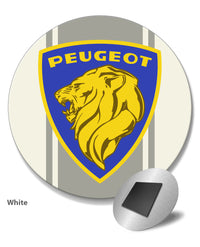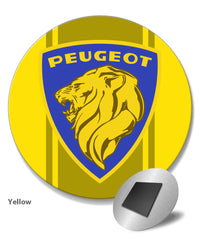 Peugeot Emblem Round Fridge Magnet
Product Code:
PEUGEOT_EMBLEM_RD_MAG_BLK
Vintage Peugeot Emblem Novelty Round Fridge Magnet

The family business that preceded the current Peugeot company was founded in 1810, and manufactured coffee mills and bicycles. In 1858, Emile Peugeot applied for the lion trademark, and in 1889 Armand Peugeot built the concern's first car, an unreliable steam tricycle, followed in 1890 by an internal combustion car with a Panhard-Daimler engine. In 1896 the Société des Automobiles Peugeot was founded. A popular model introduced in 1955 was the Peugeot 403. It sold one million copies by the end of its production run in 1962, famously including one driven by TV detective Columbo. In 1960 introduced the Peugeot 404, which proved rugged enough to win the East African Safari Rally, in four of the six years between 1963 and 1968. More models followed, many styled by Pininfarina, such as the 504, one of Peugeot's most distinctive models. Peugeot has an impressive history in motor sport for more than a century. Peugeot won the WRC five times, the Le Mans Cup twice, surpassing Toyota and Audi, the World Endurance Championship twice, and more. In 2014 Peugeot has pulverized the record set in the ascent to Pikes Peak. The Lion carries the Legend.
Perfect for all car enthusiasts that want to show their passion for their Peugeot. This 2.25" (57 mm) round magnet will look so cool on your fridge, tool box, metal shelving, or anywhere you want, as long as it's ferromagnetic. It is quality made of .045" Aluminum that will not fade or break and a1/2 inch square magnet in the back. Make room on the fridge, you deserve a special decoration spot in the middle of the other fridge magnets. Stick it to anything you'll like on your desk, car, workbench, toolbox, or man cave board. Choose between 14 different colors that contrast beautifully with the vintage Peugeot emblem. For any car guy, this is the ideal gift to add style and show their passion, even in the middle of the kitchen.
Available in: Red - Purple - Light Green - Orange - Yellow - Pink - Bright Blue - Light Blue - Black Velvet - Dark Orange - Dark Green - Dark Blue - Gray - White
- Made of 0.045" (1.14 mm) Aluminum
- 2.25" (57.2 mm) diameter
- Durable aluminum material
- Water-resistant & easy to clean
- 1" backer magnet for adhesion
Made in USA
* Peugeot or any other marks are registered trademarks. Our products are not approved by any of these manufacturers and trademarks. We do not imply any association with these manufacturers and references are based on historical information in the public domain.