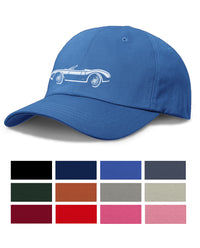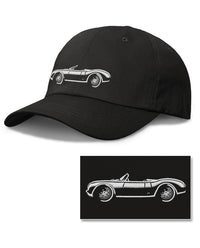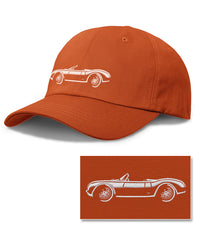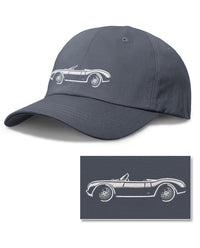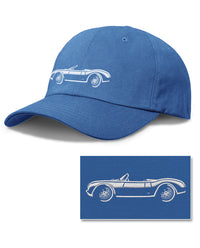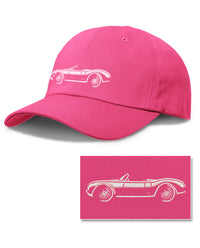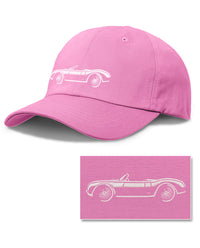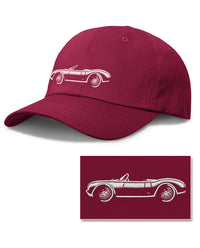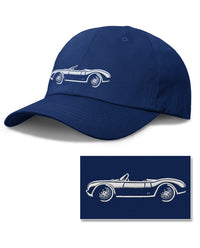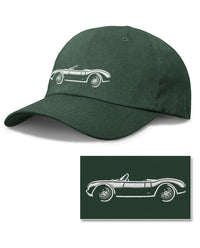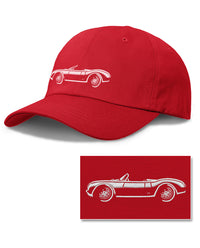 Porsche 550 Spyder - Baseball Cap for Men & Women - Side View
Product Code:
PRSCH_550_CAP_BLK
Porsche 550 Spyder 1953 - 1956 Baseball Cap for Men and Women
By the early fifties, Porsche found that modified production cars could no longer win races and designed a car specifically for racing. It was first shown to the public in 1953 at the Hockenheim Grand Prix. A month later a 550 Spyder was exhibited at the Paris Motorshow. The car had a few luxurious as a full windshield with wipers, seating for two. The Porsche 550 was a very successful car that showcased the capabilities and creativity of Porsche.
A game of subtle lights and shadows reveal the magnificent curves of the Porsche 550 Spyder 1953 - 1956, a Legendary German Classic Car. Detailed and harmonious, the artistic illustration has captured the essence of one of the most influential vehicle of the 20th century. Magnificently embroidered on the centered front of our 100%; cotton caps. ​Refined and stylish, it is the perfect head protection for a long sunny drive in your car or a cool wear for any occasion to show your passion for a true Legend: the Porsche 550 Spyder 1953 - 1956 Baseball Cap Hat for Men and Women.
The featured original artwork has been embroidered on a high quality 100% cotton solid six-panel low-profile twill cap:
• Unconstructed crown with top button and eyelets on side panels
• Matching color sweatband
• Pre-curved bill with four rows of stitching
• Closure consists of a fabric band with brass buckle and brass grommet hideaway closure or velcro bands.

It is available in Black , Burnt Orange , Charcoal , Cool Blue , Hot Pink , Light Pink , Maroon , Muddy , Navy Blue , Old Green, Red and Wheat in one size fits all.
WARNING: Every monitor displays colors differently. Our pictures and color swatches represent the closest approximation of the colors we provide, not a guarantee.
* Porsche or any other marks are registered trademarks. Our products are not approved by any of these manufacturers and trademarks. We do not imply any association with these manufacturers and references are based on historical information in the public domain.