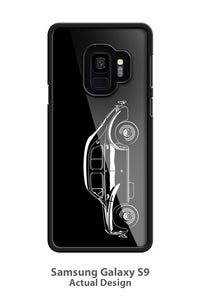 Renault 4CV 750 760 Quinquette 1947 - 1961 Smartphone Case - Side View
Product Code:
RNLT_4CV_CIV_BIG_BLACK
Renault 4CV 750 760 Quinquette 1947 - 1961 Cell Phone Case for Smartphone
The 4CV was originally conceived and designed covertly by Renault engineers during the World War II German occupation of France, when the manufacturer was under strict orders to design and produce only commercial and military vehicles. Between 1941 and 1944 Renault was placed under the strict technical directorship of a German engineer, Wilhelm von Urach who failed to notice the small car project emerging on his watch. A design team envisioned a small, economical car suitable for the period of austerity expected after the war. Because the Germans had forbidden work on any new passenger car models, the 4CV development was defined as a low priority spin-off from a project to develop a new engine. The 4CV was ultimately presented to the public and media at the 1946 Paris Motor Show and went on sale a year later. On the 4CV's launch, it was nicknamed "La motte de beurre" (the lump of butter); this was due to the combination of its shape and the fact that early deliveries all used surplus paint from the German Army vehicles of Rommel's Afrika Korps, which were a sand-yellow color. Later it was known affectionately as the "quatre pattes", "four paws". Despite an initial period of uncertainty and poor sales due to the ravaged state of the French economy, the 4CV had sold 37,000 units by mid-1949 and was the most popular car in France. Across the Rhine 1,760 4CVs were sold in West Germany in 1950, accounting for 23% of that country's imported cars, and ranking second only to the Fiat 500 on the list. The car remained in production for more than another decade. The 4CV's direct replacement was the Dauphine, launched in 1956, but the 4CV remained in production until 1961. The 4CV was replaced by the Renault 4 which used the same engine as the 4CV and sold for a similar price.The 4CV was also assembled in seven other countries: Australia, Belgium, England, Ireland, Japan (where the Hino-assembled cars gained a reputation for superior quality), Spain and South Africa. A total of 1,105,543 4CV were produced.
A game of subtle lights and shadows reveal the magnificent curves of the body of this Legendary Renault 4CV 750 760 Quinquette 1947 - 1961 automobile: The Renault 4CV one of the most influential vehicle of the 20th century. A true Car Legend that lives forever: the Renault 4CV 750 760 Quinquette 1947 - 1961 Cell Phone Case for Apple iPhone and Samsung Galaxy Smartphones.
Available in:
Black • Silver Grey • Military Green • Lemans Blue • British Green • Racing Blue • Dark Red • Cattail Brown • Steel Blue • Good Orange • Italian Red • Light Blue • Light Pink • Hot Pink
for:Apple iPhone 4 • 4s • 5 • 5s • 5SE • 6 • 6s • 6 Plus • 6s Plus • 7 • 7 Plus • 8 • SE • 8 Plus • X • XS • XS Max • XR • 11 • 11 Pro • 11 Pro Max • 12 Mini • 12 • 12 Pro • 12 Pro Max • 13 Mini • 13 • 13 Pro • 13 Pro Max • 13 Mini • 14 • 14 Plus • 14 Pro • 14 Pro Max • 15 • 15 Plus • 15 Pro • 15 Pro Max
Samsung Galaxy S4 • S5 • S6 • S7 • S8 • S8+ • S9 • S9+ • S10 • S10e • S10+ • S20 • S20+ • S20 Ultra • S20 Lite • S20 FE • S21 • S21+ • S21 Ultra • S21 FE • S22 • S22+ • S22 Ultra • S23 • S23+ • S23 Ultra

The cover / case is made of Flexible Rubber or Hard Plastic (for the oldest models) and a Printed Aluminum Insert.
The image is permanently infused into the aluminum that will not crack, fade, chip, or peel (we do not use stickers or decals).
Easy access to all buttons and features of your phone, plug your charger cable, and headset without removing the case.
The Smartphone is not included. You will receive 1 (one) Smartphone case / cover / skin only.
This Smartphone Case is brand new with tag. It is in stock, packed in bubble bag and ready to ship.
This product was designed, printed & packed in the USA.

*RENAULT or any other marks are registered trademarks. Our products are not approved by any of these manufacturers and trademarks. We do not imply any association with these manufacturers and references are based on historical information in the public domain.