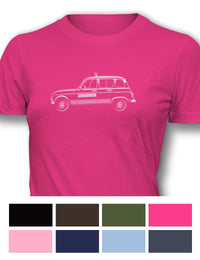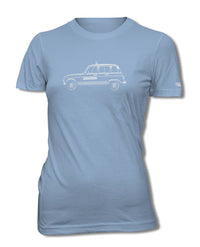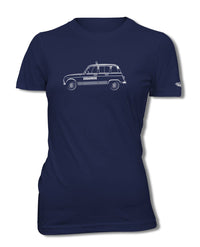 Renault R4 4L Gendarmerie T-Shirt - Women - Side View
Product Code:
RNLT_4L_GENDARM_WOM_S_BLK
Renault R4 4L Gendarmerie T-Shirt for Women
The Renault 4, commonly referred to as the 4L, first appeared in 1961. It was immediately embraced by the French people, who made of this car a legend amongst its peers. With its straightforward design it became a favorite for all. Throughout its life the Renault 4L was decline is several versions from a cabriolet to 4x4, to commercial van, as well as a "gendarmerie" version. Gendarmerie, is the term used by the branch of the armed forces responsible for internal security. The 4L was selected by the authorities as it was the only car with a large headroom enough to allow the "Gendarmes" to drive while wearing their "Kepis". The first models were painted white or gray, later the Gendarmerie adopted the legendary "blue Gendarme" that still characterized their fleet of vehicle. The 4L performed loyal services to the Gendarmerie for more than 30 years. The last but 2 of the 4L ever built, was a Gendarmerie.
A game of subtle lights and shadows reveal the magnificent curves of the body of the Renault R4 4L Gendarmerie, a Legendary French Automobile. Detailed and harmonious, the artistic illustration has grabbed the essence of one of the most influential vehicle of the 20th century and is printed in front of the tee. Refine and stylish, it is a perfect wear for any occasion and to show your passion for a true Legend that lives forever: the Renault R4 4L Gendarmerie Women Short Sleeves T-Shirt.
The featured original artwork has been printed on a high quality 4.5 oz 100% pre-shrunk combed ringspun American cotton t-shirt. Its soft feel and fashion fit makes it so comfortable to wear.
Features: Seamless collarette, Taped shoulder-to-shoulder, Double-needle stitching on sleeves and bottom hem, Side seamed, Classic semi-contoured silhouette, Tear off label
It is available in Black, Chocolate, City Green, Hot Pink, Light Blue, Light Pink, Navy & Steel Blue
in size S - M - L - XL - 2XL
* RENAULT or any other marks are registered trademarks. Our products are not approved by any of these manufacturers and trademarks. We do not imply any association with these manufacturers and references are based on historical information in the public domain.