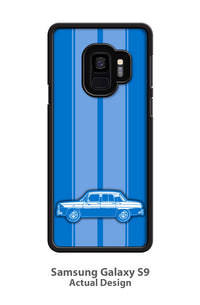 Renault 8 Gordini 1964 – 1974 Smartphone Case - Racing Stripes
Product Code:
RNLT_8_GORDINI_STRP_BRITGREEN
Renault 8 Gordini 1964 – 1974 Cell Phone Case for Smartphone
The Renault R8 rear-engined, rear-wheel drive small family cars was introduced in June of 1962 and was based on the Renault Dauphine, both having the same wheelbase, but with the R8 being slightly narrower. It had a sealed for life cooling system, four-wheel disc brakes, and a Renault 956cc four-cylinder rear-mounted engine. The style, closely following that of the first prototype produced, at unusually short notice, was fashionably boxy. The R8's engine followed the pioneering example of the recently introduced Renault 4 by incorporating a sealed for life cooling system. A distinctive innovation on the French produced cars was the fitting of four-wheel disc brakes, a first for a saloon car of this size. A more powerful version, the 8 model R1134 Gordini, was released in 1964, with a tuned engine of the same capacity but developing 90 PS (66 kW; 89 hp). The extra power was obtained by a cross-flow head and twin dual-choke 40mm side-draft Solex carburetors. A four-speed close ratio manual transmission, dual rear shock absorbers and uprated springs were fitted. The R1134 Gordini was originally available only in blue, with two stick-on white stripes. It was also equipped with distinguishable 200mm headlamp units. In 1967, the R8 Gordini (model R1135) received a facelift including two additional headlights, and its engine upgraded to a 1255cc unit rated at 100 PS (74 kW; 99 hp). The R1134 Gordini cross-flow head design was retained, and twin dual-choke 40mm Weber side-draft carburetors. The car has won the Tour de Corse, Rally Poland, Rallye Açores, Rali Vinho da Madeira, Boucles de Spa and Rajdowe Samochodowe Mistrzostwa Polski. Bob Watson won the 1970 Australian Rally Championship and was runner-up in the 1971 Australian Rally Championship driving an R8 Gordini. The Renault 8 was awarded Wheels Magazine Australia's Car of the Year Award.
A game of subtle lights and shadows reveal the magnificent curves of the body of this French Legendary automobile: The Renault 8 Gordini 1964 – 1974 one of the most influential vehicle of the 20th century. A true Car Legend that lives forever: the Renault 8 Gordini 1964 – 1974 Cell Phone Case for Apple iPhone and Samsung Galaxy Smartphones!
Available in:
Silver Grey • British Green • LeMans Blue • Italian Red • Military Green • Good Orange • Oil Black • Racing Blue
for:
Apple iPhone 4 • 4s • 5 • 5s • 5SE • 6 • 6s • 6 Plus • 6s Plus • 7 • 7 Plus • 8 • SE • 8 Plus • X • XS • XS Max • XR • 11 • 11 Pro • 11 Pro Max • 12 Mini • 12 • 12 Pro • 12 Pro Max • 13 Mini • 13 • 13 Pro • 13 Pro Max • 13 Mini • 14 • 14 Plus • 14 Pro • 14 Pro Max • 15 • 15 Plus • 15 Pro • 15 Pro Max
Samsung Galaxy S4 • S5 • S6 • S7 • S8 • S8+ • S9 • S9+ • S10 • S10e • S10+ • S20 • S20+ • S20 Ultra • S20 Lite • S20 FE • S21 • S21+ • S21 Ultra • S21 FE • S22 • S22+ • S22 Ultra • S23 • S23+ • S23 Ultra
The cover / case is made of Flexible Rubber or Hard Plastic (for the oldest models) and a Printed Aluminum Insert.
The image is permanently infused into the aluminum that will not crack, fade, chip, or peel (we do not use stickers or decals).
Easy access to all buttons and features of your phone, plug your charger cable, and headset without removing the case.
The Smartphone is not included. You will receive 1 (one) Smartphone case / cover / skin only.
This Smartphone Case is brand new with tag. It is in stock, packed in bubble bag and ready to ship.
This product was designed, printed & packed in the USA.
* RENAULT or any other marks are registered trademarks. Our products are not approved by any of these manufacturers and trademarks. We do not imply any association with these manufacturers and references are based on historical information in the public domain.