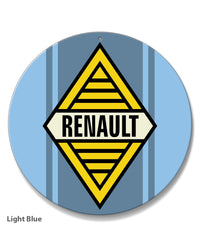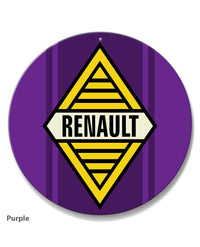 Renault Emblem Round Aluminum Sign
Product Code:
RENAULT_EMBLEM_ROUND_SIGN_BLK
Vintage Renault Emblem Novelty Round Sign

Renault S.A. was established in 1899 by Louis Renault and his brothers Marcel and Fernand. The first Renault car, the Renault Voiturette. The Renault reputation for innovation was fostered from very early on. At the time, cars were very much luxury items. In 1905 the company introduced mass-production techniques, and Taylorism to lower their price. In secrecy during the WWII, Renault had developed the rear engine 4CV which was launched in 1946. The 4CV proved itself a capable rival for cars such as the Morris Minor and Volkswagen Beetle; its sales of more than half a million. Then came the Dauphine, who sold extremely well as the company expanded production and sales further abroad, including Africa and North America. Renault has taken part in motorsport since the beginning of the 20th century and over the years has acquired companies with a sporting connection such as Gordini and Alpine. Renault has achieved huge success in both rallying and in Formula One over several decades. The company backs several one-make single-seater series such as Formula Renault, and World Series by Renault. A Legend by itself.
Perfect for all car enthusiasts that want to show their passion for their Renault, this Novelty Round Sign looks great on a wall at home, garage, office, workshop, Man cave, private roadways or anywhere you feel you deserve a special decoration spot. Choose between 14 different colors that contrast beautifully with the vintage Renault emblem. For any car guy, this is the ideal gift to add style and show their pride.
Available in: Red - Purple - Light Green - Orange - Yellow - Pink - Bright Blue - Light Blue - Black Velvet - Dark Orange - Dark Green - Dark Blue - Gray - White
Made of .042 Aluminum
11 3/4" (30 cm) diameter
1 hole for easy mounting
Water-resistant
UV protected for outdoor use and durability
Made in USA
* Renault or any other marks are registered trademarks. Our products are not approved by any of these manufacturers and trademarks. We do not imply any association with these manufacturers and references are based on historical information in the public domain.