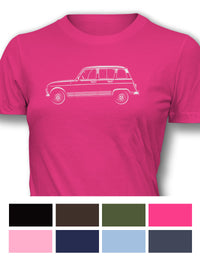 Renault R4 4L 1978 - 1992 T-Shirt - Women - Side View
Product Code:
RNLT_4L_S3_WOMEN_S_BLK
Renault R4 4L 1978 - 1992 T-Shirt for Women
The Renault 4, also known as the 4L (pronounced "Quatrelle" in French), was a small economy car produced by Renault between 1961 and 1994. The car was launched at a time when several decades of economic stagnation were giving way to growing prosperity and surging car ownership in France. The first million cars were produced by 1 February 1966, less than four and a half years after launch; eventually over eight million were built, making the Renault 4 a commercial success because of the timing of its introduction and the merits of its design. The 4L was Renault's response to the Citroën 2CV. Renault was able to review the advantages and disadvantages of the 2CV that was becoming outdated. By the 1960s the French economy was growing and people would be able to afford a more modern, refined and less utilitarian small car. In early 1956, Renault launched this new project: designing a new model to replace the 4CV and would become an everyman's car, capable of satisfying the needs of most consumers. It would be a family car, a woman's car, a farmer's car, or a city car. Renault launched the Renault 4 at the Paris Motor Show on a specialized demonstration display that incorporated an irregular rolling road. Visitors could sit inside a car, which remained undisturbed while the suspension absorbed the erratic bumps of the rolling road. The Renault 4 was a basic car with a simple dashboard and sliding windows. Suspension and seats were designed for comfort, and ventilation and the heater were effective. The Renault 4 was produced for many years, but was not significantly changed. Exterior chrome trim was eventually phased out on all models, and aluminium grilles were replaced with plastic ones. Though reasons such as emissions and safety legislation are often given for the Renault 4's demise in Europe during the 1980s, it would appear that its popularity would not have lasted anyway. To conclude production, a series of 1000 examples marketed as "Bye-Bye" was released, each with a numbered plaque. The production of the R4 finally finished after 31 years and over eight millions units. The Renault 4 was originally powered by a 24 hp (18 kW) engine and its suspension was never intended for sporting dynamics. The Renault 4 had certain advantages in its high torque and a suspension and ground-clearance that gave it go-anywhere capabilities. This meant that Renault was able to give it a sporting image with the "Cross Elf Cup of France" in 1974 and the "Routes du Monde" in 1968. The later was a project in which Renault would lend young people cars to travel the world in, and this would help to give the Renault 4 an adventurous and durable image. The "Coupe de France Renault Cross Elf" was a series of races in France on dirt tracks with slightly tuned 782 cc R4s.
A game of subtle lights and shadows reveal the magnificent curves of the body of the Renault R4 4L 1978 - 1992, a Legendary French Automobile. Detailed and harmonious, the artistic illustration has grabbed the essence of one of the most influential vehicle of the 20th century and is printed in front of the tee. Refine and stylish, it is a perfect wear for any occasion and to show your passion for a true Legend that lives forever: the Renault R4 4L 1978 - 1992 Women Short Sleeves T-Shirt.
The featured original artwork has been printed on a high quality 4.5 oz 100% pre-shrunk combed ringspun American cotton t-shirt. Its soft feel and fashion fit makes it so comfortable to wear.
Features: Seamless collarette, Taped shoulder-to-shoulder, Double-needle stitching on sleeves and bottom hem, Side seamed, Classic semi-contoured silhouette, Tear off label
It is available in Black, Chocolate, City Green, Hot Pink, Light Blue, Light Pink, Navy & Steel Blue in size S - M - L - XL - 2XL
*RENAULT or any other marks are registered trademarks. Our products are not approved by any of these manufacturers and trademarks. We do not imply any association with these manufacturers and references are based on historical information in the public domain.