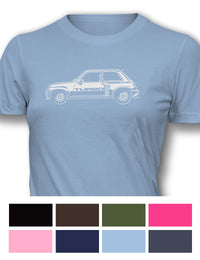 Renault R5 Turbo 1980 – 1986 T-Shirt - Women - Side View
Product Code:
RNLT_5_TURBO_WOMEN_S_BLK
Renault R5 Turbo 1980 – 1986 T-Shirt for Women
The Renault 5 Turbo or R5 Turbo was a super high-performance automobile based on the R5. Launched at the Brussels Motor Show in January 1980, the car was primarily designed for rallying, but was also sold in a street version to comply with the FIA's rules. A total of 4987 (turbo 1: 1820 and turbo 2: 3167) R5 Turbos were manufactured during a six-year production run. Jean Terramorsi tasked Marc Deschamps to design a new sports version of the Renault 5. The Renault 5 Turbo was built on a modified Renault 5 chassis and fitted with Renault's C-Type four-cylinder inline engine with Bosch K-Jetronic mechanical fuel injection and a Garrett T3 turbocharger. A radical change was the switch to rear-wheel drive and the new engine location, which was placed behind the driver. Other changes followed, including to the suspension which would have interfered with the transmission, so a rear double wishbone and coil spring setup was installed. The Renault R5 Turbo was the most powerful French production car available at the time. Due to the naming convention, it is easy to confuse the Renault R5 Turbo with the front-wheel drive Renault 5 Gordini Turbo or GT Turbo. However, they were very different. The Renault 5 Turbo was a mid-engined homologation special built in limited numbers for Group B raylling between 1979 and 1986. In road guise, the 1.4-liter overhead-valve engine was tuned to produce around 160 horsepower, giving the R5 Turbo a 0-100 km/h time of around 7 seconds. The two-seater supercar was first seen in prototype form at the 1978 Paris Salon and made its competition debut in 1980 on the Tour de Corse, where Jean Ragnoti's works car led the event before it was forced to retire due to electrical trouble. In 1981, Ragnotti and his co-driver Jean-Marc Andrie won the Monte Carlo Rally outright for Renault and the following year Ragnotti won the Tour de Corse again. Competition increased as teams began using four-wheel drive cars so Renault responded with the more powerful Tour de Corse and Maxi Turbo variants, which aided Ragnotti in winning another Tour de Corse victory in 1985. At the close of the season, the works team retired the 5 Turbo from competition.
A game of subtle lights and shadows reveal the magnificent curves of the body of the Renault R5 Turbo 1980 – 1986, a Legendary French Automobile. Detailed and harmonious, the artistic illustration has grabbed the essence of one of the most influential vehicle of the 20th century and is printed in front of the tee. Refine and stylish, it is a perfect wear for any occasion and to show your passion for a true Legend that lives forever: the Renault R5 Turbo 1980 – 1986 Women Short Sleeves T-Shirt.
The featured original artwork has been printed on a high quality 4.5 oz 100% pre-shrunk combed ringspun American cotton t-shirt. Its soft feel and fashion fit makes it so comfortable to wear.
Features: Seamless collarette, Taped shoulder-to-shoulder, Double-needle stitching on sleeves and bottom hem, Side seamed, Classic semi-contoured silhouette, Tear off label
It is available in Black, Chocolate, City Green, Hot Pink, Light Blue, Light Pink, Navy & Steel Blue in size S - M - L - XL - 2XL
*RENAULT or any other marks are registered trademarks. Our products are not approved by any of these manufacturers and trademarks. We do not imply any association with these manufacturers and references are based on historical information in the public domain.